HD Rod Lens Sinuscopes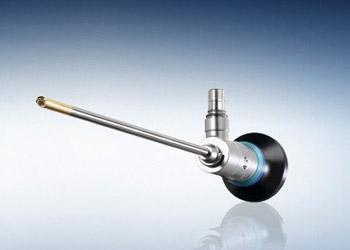 Sinuscope
HD Rod Lens Sinuscopes
Olympus HD Sinuscopes deliver outstanding quality in rigid endoscopy imaging for ENT. The true color lens system of 4 mm HD Sinuscopes allows for definition and clarity of structures in the entire endoscopic field. Durable construction and a variety of scope configurations make a 4 mm HD Sinuscope an outstanding addition to your ENT suite.
---
Key Benefits
Outstanding optical quality: High-quality imaging delivers excellent contrast and homogenous illumination.
Compatible reprocessing: Autoclavable HD Sinuscopes are also compatible with glutaraldehyde, peracetic acid, and washers/disinfectors.
Comprehensive product line: HD Sinuscopes are available in a variety of configurations offering multiple directions of view (0°, 30°, 45°, 70°) and with the connector for the light guide available either on top or bottom.
Product Support
HD SINUSCOPE MODELS
WA96200A: HD Sinuscope 4 mm 0°
WA96201A: HD Sinuscope LG down 4 mm 30°
WA96202A: HD Sinuscope LG up 4 mm 30°
WA96203A: HD Sinuscope LG down 4 mm 45°
WA96204A: HD Sinuscope LG up 4 mm 45°
WA96205A: HD Sinuscope LG down 4 mm 70°
WA96206A: HD Sinuscope LG up 4 mm 70°
Olympus Service & Repair
Olympus offers a broad range of services to healthcare professionals and to our customers, including contact hour and peer-based training courses; information, training tools and videos on infection control and reprocessing; authorized repair services and support on Olympus equipment; and financing solutions to help your facility with acquisition of new capital equipment, accessories, and maintenance plans.
Need Help?
Cleaning, Disinfection & Sterilization
The proper cleaning, disinfection, and sterilization of Olympus equipment is equally as important as their proper use. 
Olympus Training & Proper Use
Olympus offers a variety of educational opportunities for medical and surgical healthcare professionals. 
Peer-To-Peer Training
Our Professional Education Program provides multiple types of peer-to-peer training in order to meet the specific educational needs of physicians and nurses focused on the safe and effective use of Olympus products.
Olympus University
Olympus Professional Education also offers training programs through Olympus University (OU). Geared toward nurses, reprocessing technicians and biomeds, many of the OU courses are available for nursing contact hour continuing education credit.
Visit Olympus University
---