GLIDEWIRE® Endoscopic Hydrophilic Coated Guidewire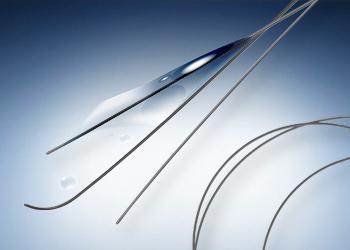 ERCP Guidewire
GLIDEWIRE® Endoscopic Hydrophilic Coated Guidewire
With an over 20 year legacy, GLIDEWIRE® Endoscopic Guidewire is the quintessential fully hydrophilic guidewire that therapeutic endoscopists prefer. The combination of Terumo's hydrophilic coating, nitinol core, and soft flexible tip make GLIDEWIRE® Endoscopic Guidewire the optimum choice for navigating difficult anatomy and tight strictures, while minimizing the risk of trauma to the patient.

Offered in 0.020 inch, 0.025 inch, and 0.035 inch diameters, GLIDEWIRE® Endoscopic Guidewire can provide consistent biliary or pancreatic access independent of anatomical variations.
---
Key Benefits
Advanced access: The original and still most advanced hydrophilic coating for smooth access during difficult procedures.
Precision handling: GLIDEWIRE® Endoscopic Guidewire's smoothly tapered nitinol core provides resistance to kinking as well as optimal ability to torque for enhanced navigation in difficult anatomy.
Versatility: The only fully hydrophilic guidewire available in both short and long configurations to complement all physicians' device preferences and simplify access.
Product Support
Outer Diameters: 0.020, 0.025, 0.035 in
Working Lengths: 260, 450 cm
Tip Shapes: Straight, angled
Shaft: Regular, stiff
Package: 5 per box, sterile
Use: Single Use
GLIDEWIRE® Endoscopic Hydrophilic Coated Guidewire and GLIDEWIRE® Endoscopic Guidewire are registered trademarks of Terumo Corporation.
Olympus® Service & Repair
Olympus offers a broad range of services to healthcare professionals and to our customers, including contact hour and peer-based training courses; information, training tools and videos on infection control and reprocessing; authorized repair services and support on Olympus equipment; and financing solutions to help your facility with acquisition of new capital equipment, accessories, and maintenance plans.
Need Help?
Cleaning, Disinfection & Sterilization
The proper cleaning, disinfection, and sterilization of Olympus equipment is equally as important as their proper use.
Olympus Training & Proper Use
Olympus Continuum, is a comprehensive platform of education and training experiences led by healthcare experts from around the world. Learning opportunities include hands-on courses, online learning, lectures and workshops, peer-to-peer training, accredited continuing education, and on-demand learning.
For more information: Olympus Continuum Video
---