BrushMasterV Cytology Brush - Single Use (BC-V600P-3010)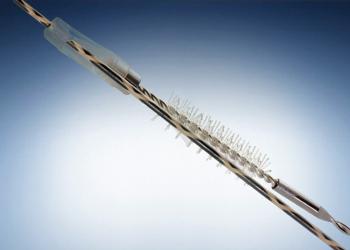 Brushes
Cytology Brush
BrushMasterV Cytology Brush - Single Use (BC-V600P-3010)
The single-use Olympus BrushMasterV Cytology Brush delivers improved fluoroscopic visibility with dual radiopaque markers at each end of the brush. The distal wire-guided design provides excellent stricture passage and precisely targeted brushing.
---
Key Benefits
Ideal brush strength: The brush is the ideal strength for improved specimen collection.
Optimal stiffness: The brush's combination of stiffness and flexibility ensures optimal pushability and smooth passage through the stricture.
V-System compatibility: BrushMasterV brushes are equipment with V-Markings and C-Hook for integration with the V-System for ERCP.
Product Support
BC-V600P-3010
Working Length: 190 mm
Brush Length: 10.0 mm
Brush Diameter: 3.0 mm
Minimum Channel Size: 3.2 mm
Compatible Scopes: JF, TFJ
Sheath Design: Distally wire-guided
Package: 1 per box, sterile
Use: Single use
For detailed specifications please contact customer service for assistance.
Olympus Training & Proper Use
Olympus Continuum, is a comprehensive platform of education and training experiences led by healthcare experts from around the world. Learning opportunities include hands-on courses, online learning, lectures and workshops, peer-to-peer training, accredited continuing education, and on-demand learning.
For more information: Olympus Continuum Video
---