EVIS EXERA II (SIF-Q180)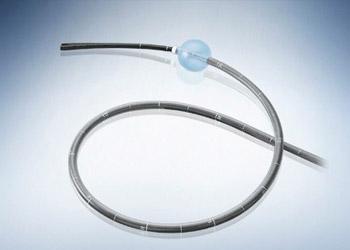 Enteroscope
Video Enteroscope
EVIS EXERA II (SIF-Q180)
As part of the innovative Olympus Single Balloon Enteroscope (SBE) System, the EVIS EXERA II SIF-Q180 small intestinal videoscope enables effective enteroscopy procedures with its simple setup and clinical efficiency. With high-resolution images and remarkable maneuverability, it is particularly useful in complex cases. Despite its slim 9.2 mm distal end diameter, there is no compromise on superb imaging performance. In addition, a generous 2.8 mm diameter instrument channel can accommodate a range of therapeutic instruments.
---
Key Benefits
Deep access to the small bowel: Thanks to the innovative single-balloon design, the SIF-Q180 can reach anywhere in the small bowel via an antegrade or retrograde approach for diagnostic and therapeutic procedures.
Outstanding imaging performance: A high-resolution CCD chip incorporated in the distal end of the scope provides high-quality images with finer detail.
Wide channel in a slim design: A generous 2.8 mm diameter channel is housed in a slim scope, measuring just 9.2 mm at its distal end with an optimized bending section to improve maneuverability and insertion. 
Simple cleaning and disinfection: This scope incorporates a balloon on the splinting tube only. That means there is no need for an extra step in the cleaning process for a dedicated balloon/air channel in the scope.
Product Support
Outer Diameter Insertion Tube:
Olympus® Service & Repair
Olympus offers a broad range of services to healthcare professionals and to our customers, including contact hour and peer-based training courses; information, training tools and videos on infection control and reprocessing; authorized repair services and support on Olympus equipment; and financing solutions to help your facility with acquisition of new capital equipment, accessories, and maintenance plans.
Need Help?
Cleaning, Disinfection & Sterilization
The proper cleaning, disinfection, and sterilization of Olympus equipment is equally as important as their proper use.
Olympus Training & Proper Use
Olympus Continuum, is a comprehensive platform of education and training experiences led by healthcare experts from around the world. Learning opportunities include hands-on courses, online learning, lectures and workshops, peer-to-peer training, accredited continuing education, and on-demand learning.
For more information: Olympus Continuum Video
---