ENF-VT3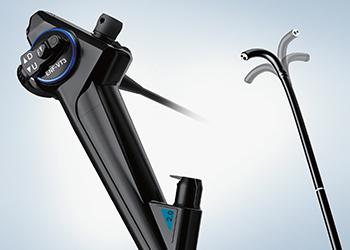 Video Rhinolaryngoscope
ENF-VT3
The ENF-VT3 is the world's first rhino-laryngo videoscope to incorporate four-direction angulation capability. The addition of 70° right/left angulation to the previously available 130° up/down has dramatically improved the approach to a lesion. Angulation in four-directions is possible using just one hand, allowing the other hand to simultaneously manipulate a therapeutic accessory
---
Key Benefits
World's First Four-Direction Angulation: 130° up/down and 70° right/left angulation
Higher Quality Image: The incorporation of a high-performance CCD further improves image quality and contributes to observations and treatments of small lesions due to it's clear field of view.
Close Focus Observation: The close-focus capability enables observation from just 2mm for situations when more precision and finer detail is required, such as viewing minute variations and lesions in the mucosa.
Enhanced Visualization: Narrow Band Imaging (NBI) is a patented optical image technology that enhances the visibility of vessels and other tissue on the mucosal surface.
Product Support
Outer Diameter Insertion Tube:
Olympus Service & Repair
Olympus offers a broad range of services to healthcare professionals and to our customers, including contact hour and peer-based training courses; information, training tools and videos on infection control and reprocessing; authorized repair services and support on Olympus equipment; and financing solutions to help your facility with acquisition of new capital equipment, accessories, and maintenance plans.
Need Help?
Cleaning, Disinfection & Sterilization
The proper cleaning, disinfection, and sterilization of Olympus equipment is equally as important as their proper use. 
Olympus Training & Proper Use
Olympus offers a variety of educational opportunities for medical and surgical healthcare professionals. 
Peer-To-Peer Training
Our Professional Education Program provides multiple types of peer-to-peer training in order to meet the specific educational needs of physicians and nurses focused on the safe and effective use of Olympus products.
Olympus University
Olympus Professional Education also offers training programs through Olympus University (OU). Geared toward nurses, reprocessing technicians and biomeds, many of the OU courses are available for nursing contact hour continuing education credit.
Visit Olympus University
---