ENF-VT3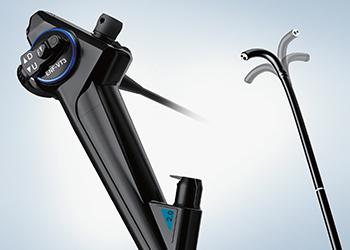 Video Rhinolaryngoscope
ENF-VT3
The ENF-VT3 is the world's first rhino-laryngo videoscope to incorporate four-direction angulation capability. The addition of 70° right/left angulation to the previously available 130° up/down has dramatically improved the approach to a lesion. Angulation in four-directions is possible using just one hand, allowing the other hand to simultaneously manipulate a therapeutic accessory
---
Key Benefits
World's First Four-Direction Angulation: 130° up/down and 70° right/left angulation
Higher Quality Image: The incorporation of a high-performance CCD further improves image quality and contributes to observations and treatments of small lesions due to it's clear field of view.
Close Focus Observation: The close-focus capability enables observation from just 2mm for situations when more precision and finer detail is required, such as viewing minute variations and lesions in the mucosa.
Enhanced Visualization: Narrow Band Imaging (NBI) is a patented optical image technology that enhances the visibility of vessels and other tissue on the mucosal surface.
Product Support
Outer Diameter Insertion Tube:
Olympus® Service & Repair
Olympus offers a broad range of services to healthcare professionals and to our customers, including contact hour and peer-based training courses; information, training tools and videos on infection control and reprocessing; authorized repair services and support on Olympus equipment; and financing solutions to help your facility with acquisition of new capital equipment, accessories, and maintenance plans.
Need Help?
Cleaning, Disinfection & Sterilization
The proper cleaning, disinfection, and sterilization of Olympus equipment is equally as important as their proper use.
Olympus Training & Proper Use
Olympus Continuum, is a comprehensive platform of education and training experiences led by healthcare experts from around the world. Learning opportunities include hands-on courses, online learning, lectures and workshops, peer-to-peer training, accredited continuing education, and on-demand learning.
For more information: Olympus Continuum Video
---