ENF-V4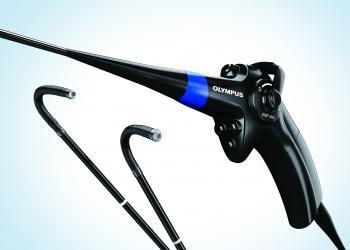 Video Rhinolaryngoscope
ENF-V4
The Olympus ENF-V4 video rhino-laryngoscope delivers high-resolution imaging  and an ultra-slim outer diameter with a new pistol grip design.  The reduced weight, improved operability and easier insertion of this design help to minimize strain and maximize performance.  The new control section was designed to be a universal scope for all customers.
---
Key Benefits
Ultra-slim diameter:  this scope provides a bright, high resolution image in a slim 2.6mm outer diameter that makes insertion into tight nasal passages much easier.
Control Section with 30% lighter weight: the new, ergonomic design allows for comfortable use regardless of hand size or screen orientation coupled with better insertability into the nasal cavity.
Product Support
Outer Diameter Insertion Tube:
Olympus Service & Repair
Olympus offers a broad range of services to healthcare professionals and to our customers, including contact hour and peer-based training courses; information, training tools and videos on infection control and reprocessing; authorized repair services and support on Olympus equipment; and financing solutions to help your facility with acquisition of new capital equipment, accessories, and maintenance plans.
Need Help?
Cleaning, Disinfection & Sterilization
The proper cleaning, disinfection, and sterilization of Olympus equipment is equally as important as their proper use.
Olympus Training & Proper Use
Olympus Continuum, is a comprehensive platform of education and training experiences led by healthcare experts from around the world. Learning opportunities include hands-on courses, online learning, lectures and workshops, peer-to-peer training, accredited continuing education, and on-demand learning.
For more information: Olympus Continuum Video
---