CV-170 Video Processor and LED Light Source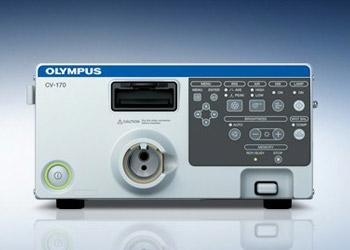 Office Video Processor
CV-170 Video Processor and LED Light Source
You can only treat what you can see. HD videoscopes have quickly become the standard in many ENT procedures due to the ability to examine mucosal patterns with greater clarity than traditional fiber or SD videoscopes. For the first time ever, HD laryngoscopy is now available to the patients who need it most at the point where it is most valuable: diagnostic laryngoscopy in the office.
With LED light, HD scope support, and Narrow Band Imaging (NBI) built into one, compact box, the CV-170 provides physicians with exceptional diagnostic tools at an affordable price for any office.
---
Key Benefits
Advanced Imaging
The CV-170 is compatible with HD videoscopes to provide the image quality of a rigid scope with the comfort of a flexible rhino-laryngoscope.
Patented NBI technology built into the CV-170 enhances visibility of vascular structures on the mucosal surface.
Reduced Costs
The CV-170's LED light source reduces cost by virtually eliminating the need to replace expensive Xenon or Halogen light bulbs.
The platform's ultra-quiet and power-saving design also uses less energy than previous systems.
Greater Efficiency
The CV-170's compact design saves valuable space in procedure rooms.
The system's backwards compatibility with previous-generation products extends the life of existing scopes and camera heads.
Product Support
Ordering Info CV-170
Video System & Ancillary Devices
CV-170
All-in-One HD Video System w/LED & NBI
MAJ-1981
Olympus Keyboard
MAJ-1925
Olympus 2GB USB Portable Memory
MAJ-438
Remote Accessory Cable
MAJ-1981
Olympus Keyboard
MAJ-1925
Olympus 2GB USB Portable Memory
LMD-2110MD/OL
21.5" LCD HD Widescreen Medical Grade Monitor
USB200
SD Image/Video Capture to USB Drive
IS40950
nStream DX V9.0 Image and Video Recording with DICOM
UP-25MD
Sony Color Video Printer, small format (for office use)
TC-C2-PS
Primary Endoscopy procedure cart with power supply and keyboard tray
AR-T10E
Coupler
AR-T12E Coupler
All-in-One HD Video System w/LED & NBI
ENF-VH
HD Rhinolaryngoscope
Product Specs
Power Supply
Voltage
100-240V AC: within +/- 10%
Frequency
50/60 Hz: within +/- 1 Hz
Rated
Input 200 VA
Size
Dimensions
(W x H x D) 295 x 145 x 425 mm (W x H x D)
Weight
11.0 kg
Observations
Examination Lamp
LED Lamp
Analog HDTV signal output
Either RGB (1080/60I: NTSC)/(1080/50I: PAL) or YPbPr (1080/60I: NTSC)/(1080/50I: PAL) output can be selected.
Analog SDTV signal output
VBS composite (480/60I: NTSC)/(576/50I: PAL), Y/C (480/60I: NTSC)/(576/50I: PAL), and RGB (480/60I: NTSC)/(576/50I: PAL): simultaneous outputs possible.
Digital signal output
HD-SDI (SMTPE 292M), SD-SDI (SMPTE 259M) and DVI (WUXGA, 1080p or SXGA) can be selected.
White balance adjustment
White balance adjustment is possible using the white balance button on the front panel.
Color tone adjustments
Red adjustment: ±8 steps, Blue adjustment: ±8 steps, Chroma adjustment: ±8 steps
Automatic gain control (AGC)
The image can be electronically amplified when the light is inadequate due to the distal end of the endoscope being too far from the object.
Noise reduction
Noise is corrected by image processing
Iris
The auto iris modes can be selected using the "iris mode" switch on the front panel. Peak: The brightness is adjusted based on the brightest part of the endoscopic image. Average: the brightness is adjusted based on the average brightness of the endoscopic image.
Image enhancement setting

Fine patterns or edges in the endoscopic images can be enhanced electrically to increase the image sharpness.

Either the structural enhancement or edge enhancement can be selected according to the user setup

Structural enhancement: Enhancement of contrast of the fine patterns in the image.
Edge enhancement: Enhancement of edges of the endoscopic image.

Freeze
An endoscopic image is frozen using an endoscope or the "FREEZE" key on the keyboard
NBI Observation
This is one of optical-digital observations using the narrow band observation light
Remote control
DVR, Video printer, Image filing system, Flushing pump, Endoscopic CO2 regulation unit can be controlled (specified models only).
Documentation
Patient data
Patient ID, Patient name, Sex, Age, Date of birth, Date of recording (time, stopwatch), Comments can be displayed in the endoscopic image screen.
Displaying the record state
Portable memory and internal buffer, DVR, Video printer, Image filing system can be displayed on the monitor.
Advance registration of patient data
Patient ID, Patient name, Sex and age, Date of birth of up to 50 patients can be registered.
Portable Memory
Media
MAJ-1925 (OLYMPUS)
Recording Format
TIFF: no compression, JPEG (1/5): approx. 1/5 compression, JPEG (1/10): approx. 1/10 compression
Number of recording images
TIFF: approx. 227 images, JPEG (1/5): approx. 1024 images, JPEG (1/10): approx. 2048 images