EndoClot® PHS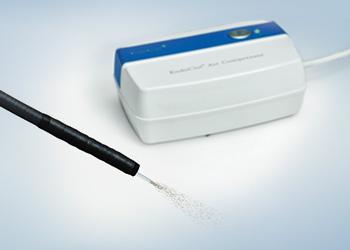 Hemostasis
EndoClot® PHS
EndoClot Polysaccharide Hemostatic System (PHS) is an advanced powder hemostat that is applied during a procedure using consistent air pressure intended to provide more control of delivery. It is indicated for use in combination with other conventional techniques, such as clips, for large and diffuse bleeds, including those occurring in peptic ulcers, post-biopsy, polypectomy, tumor bleeding, post EMR and ESD.
---
Key Benefits
Absorbable Modified Polymers (AMP®)
AMP particles are biocompatible, non-pyrogenic and starch derived and contain no animal or human components. The ability to easily irrigate with water during the procedure provides flexibility for bleeding control. AMP offers:
Hemostasis
Hydrophyllic
Easy irrigation
The EndoClot AMP particles work by absorbing water from blood. The dehydration process causes a high concentration of platelets, red blood cells, and coagulation proteins. This process helps accelerate the body's clotting cascade. AMP particles are bioabsorbable and can be degraded by the body.
AMP technology is used for the treatment of bleeds in trauma, surgery and nonvariceal GI hemostasis procedures.
NOTE: EndoClot PHS is only indicated for use in GI procedures and is not indicated for use in surgical or trauma applications.


Applicator
The applicator is comprised of a powder/ air mixing chamber, a delivery catheter, and a connecting tube.
Provides control of delivery
Anti-reflux design to prevent occlusion
Effective for use in hard-to-reach areas
Air Compressor
The EndoClot Air Compressor provides consistent air pressure to propel powder to the bleeding site.
Small and portable so that it can be used virtually anywhere
Operates on rechargeable batteries or A/C power
A consistent flow of air helps prevent the white out effect common with CO2 propellant
Data on file with Olympus as of 16/Aug/2022.
Performing hemostasis within the GI tract is a technically demanding procedure and use of EndoClot PHS and associated devices may result in patient injury including but not limited to inflammatory reaction, bowel rupture and air embolism.
---
Product Support
| | | | | | |
| --- | --- | --- | --- | --- | --- |
| Product Code | Product Name | Description | Working Length | Minimum Channel Diameter | Packaging |
| EPK2303-01 | EndoClot Polysaccharide Hemostatic System (EndoClot PHS) 3g | 3g AMP powder & a delivery applicator | 230 cm | 2.8 | 1 unit/box |
| EPK2305-01 | EndoClot Polysaccharide Hemostatic System (EndoClot PHS) 5g | 5g AMP powder & a delivery applicator | 230 cm | 2.8 | 1 unit/box |
| EPAC-2 | EndoClot Air Compressor | Reusable Air source for EndoClot PHS | N/A | N/A | 1 unit/box |
| EA230 | EndoClot Applicator | Spare delivery applicators for EndoClot PHS/Adhesive | 230 cm | 2.8 | 5 units/box |
| EPAC-1T | EndoClot Air Compressor Connecting Tube | Spare white silicon tube connects between the pump and applicator | N/A | N/A | 10 units/box |