E-SteriScope™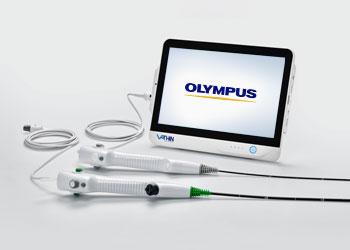 Single-Use Rhinolaryngoscope
E-SteriScope™
One Partner. More Solutions.
The E-SteriScope™ Single-use Rhinolaryngoscope portfolio delivers options for both diagnostic and therapeutic procedures complimenting Olympus' existing video platform to provide you a comprehensive ENT solution. Olympus provides the solutions you need to approach each ENT procedure, patient, and site of care with a high level of flexibility.
Learn more about the E-SteriScope portfolio and receive ENT updates from Olympus.
---
Key Benefits
Versatility: The single-use rhinolaryngoscopes can be used in a wide array of diagnostic and therapeutic applications.* They provide the portability to perform procedures confidently anywhere, anytime.
Convenience: The single-use rhinolaryngoscopes provide access to scopes that are always ready to use.
Maneuverability: The wide angulation range of 210° up and down provides flexibility when examining the anatomy.
Connectivity: Seamlessly integrate with the nCare™ Enterprise Image and Video Recorder and VaultStream™ Enterprise Content Management System allowing clinicians to access images and videos from any location.
* Improper use of scope may result in patient injury, bleeding, and/or perforation. For complete indications, contraindications, warnings, and cautions, please reference full Instructions for Use (IFU) that accompanied your product.
** Data on file as of January 2023
Product Support
RL-E1801
RL-E1E01
Field of view
110°
110°
Depth of field
3-100 mm
3-100 mm
Distal end diamter
3.2 mm
4.9 mm
Insertion tube diameter
3.2 mm
5.0 mm
Working length
300 mm
300 mm
Bending section
(up/down)
210° / 210°
210° / 210°
Channel inner diameter
n/a
2.2 mm
Compatibility
SYS-5100 and DVM-A2
SYS-5100 and DVM-A2
UOM
Pack of 6
Pack of 6
Data on file as of 11/18/22
Olympus Training & Proper Use
Olympus Continuum, is a comprehensive platform of education and training experiences led by healthcare experts from around the world. Learning opportunities include hands-on courses, online learning, lectures and workshops, peer-to-peer training, accredited continuing education, and on-demand learning.
For more information: Olympus Continuum Video
---