EVIS EXERA II (CF-Q180AL/I)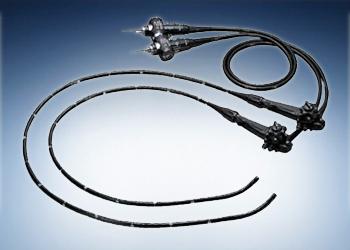 Colonoscope
Video Colonoscope
EVIS EXERA II (CF-Q180AL/I)
The EVIS EXERA II CF-Q180AL/I colonovideoscope features high-resolution, full-screen images, and a forward water jet to facilitate cleaning. For improved handling, innoflex™ Variable Stiffness technology enables adjustment of the insertion tube flexibility, and a generous 3.7 mm diameter channel (12.8 mm diameter insertion tube) accommodates a wide range of endoscopic devices while preserving satisfactory suction capability.
---
Key Benefits
High-resolution, wide-angle images: High-resolution images feature an extra-wide 170° field of view in a large-size display for detailed examination of the colon.
Easy mucosal cleaning for better observation: An auxiliary water function can be combined with a dedicated flushing pump to enable removal of mucus and clots in the colon at the touch of a switch on the scope or on the footswitch unit.
Improved handling: The CF-Q180AL/I features innoflex™ Variable Stiffness technology, enabling adjustment of the insertion tube flexibility to match the conditions and contours of the colon.
Product Support
Outer Diameter Insertion Tube:
Olympus Service & Repair
Olympus offers a broad range of services to healthcare professionals and to our customers, including contact hour and peer-based training courses; information, training tools and videos on infection control and reprocessing; authorized repair services and support on Olympus equipment; and financing solutions to help your facility with acquisition of new capital equipment, accessories, and maintenance plans.
Need Help?
Cleaning, Disinfection & Sterilization
The proper cleaning, disinfection, and sterilization of Olympus equipment is equally as important as their proper use. 
Olympus Training & Proper Use
Olympus offers a variety of educational opportunities for medical and surgical healthcare professionals. 
Peer-To-Peer Training
Our Professional Education Program provides multiple types of peer-to-peer training in order to meet the specific educational needs of physicians and nurses focused on the safe and effective use of Olympus products.
Olympus University
Olympus Professional Education also offers training programs through Olympus University (OU). Geared toward nurses, reprocessing technicians and biomeds, many of the OU courses are available for nursing contact hour continuing education credit.
Visit Olympus University
---