ScopeLocker with HEPA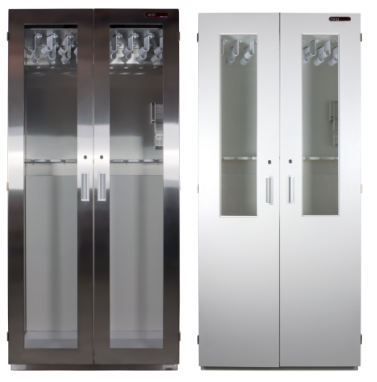 ScopeLocker with HEPA
Keep endoscopes clean, dry and protected.
Implementing a controlled storage solution plays a critical role in infection prevention and endoscope protection. ScopeLocker with HEPA helps prevent recontamination during storage by continually blowing fresh, HEPA-filtered air around your endoscopes.
Meet Society Guidelines
ScopeLocker with HEPA meets society guidelines for endoscope storage.
AORN recommends that endoscopes should be hung vertically with the distal tip hanging freely in a well-ventilated, clean area, following the endoscope manufacturer's written IFU for storage. (10.1.) 1
SGNA indicates that endoscopes must be stored in an area that is clean, well-ventilated and dust-free in order to keep the endoscopes dry and free of microbial contamination. (pg 25) 2
Keep Endoscopes Dry
ScopeLocker with HEPA promotes infection control by:
Creating positive pressure inside the storage cabinet
Keeping the outside of the endoscopes dry with a built-in fan that circulates air
Promoting vertical hanging which allows moisture to drain from endoscope channels
Replacing cabinet air every 2 minutes with HEPA-filtered ambient air
The CDC states that keeping stored endoscopes dry significantly reduces the chance of recontamination by microorganisms that can proliferate in any remaining water droplets. 3
Reduce Recontamination During Storage
The MASS truHEPA™ captures 99.97% of particulates in a .3 micron filter, removing potential contaminants from the storage cabinet – keeping them away from your endoscopes. Scope holders are free from welds, glues or cavities that could promote bacterial growth.
AORN's guidelines state that the use of HEPA filters can help prevent bacterial growth in stored flexible endoscopes.4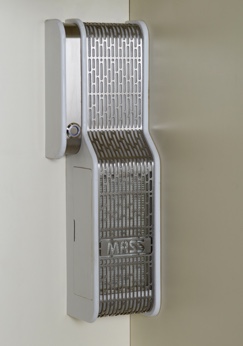 Easily Hang and Remove Scopes
ScopeLocker with HEPA makes loading and accessing scopes easier, safer and more secure with:
Rotating front holders that provide easy access to endoscopes
A Secure-A-Scope System specially designed to protect endoscope heads while separating scopes
Specialized holders designed for EUS scopes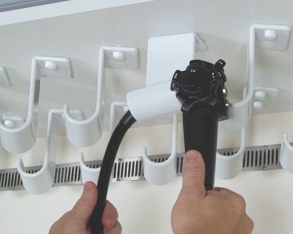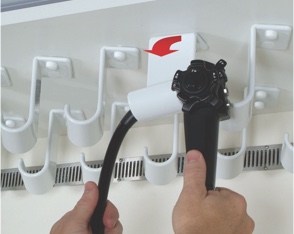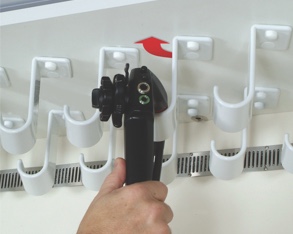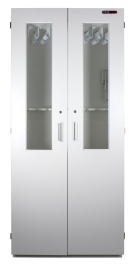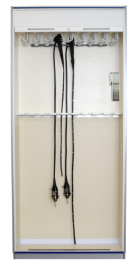 Select the Storage Cabinet that Meets Your Needs
ScopeLocker with HEPA:
Accommodates up to 4, 8, 9 or 18 scopes
Offers short and standard cabinet models
Provides powder coated steel, stainless steel and wood laminate options
Provides hinged door and roll top cabinet options
Accessories
The following accessories are available to help secure your endoscopes and monitor your storage environment:
EUS hangers to support EUS scopes
Keyless entry locks to provide added security
LED lighting for easy endoscope identification
Hygrometer gauge for temperature and humidity monitoring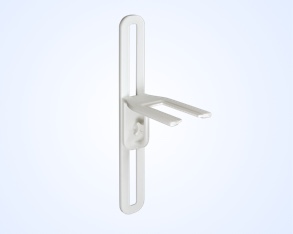 EUS hangers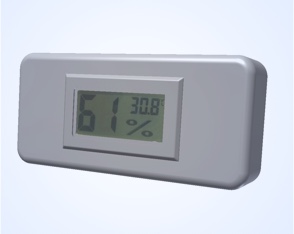 Hygrometer gauge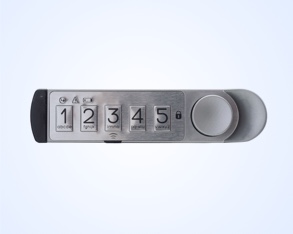 Keyless entry locks
References
*Manufactured exclusively for Olympus Scopes by our partner MASS™ Medical Storage
1. AORN Guideline For Processing Flexible Endoscopes -Revised February 2016 for publication in Guidelines for Perioperative Practice, 2016 edition.
2. Society of Gastroenterology Nurses and Associates, Inc. (SGNA) - Standards of Infection Prevention in Reprocessing of Flexible Gastrointestinal Endoscopes, 2015 ed.
3. Guideline for Disinfection and Sterilization in Healthcare Facilities, 2008: Disinfection of Healthcare Equipment. Healthcare Infection Control Practices Advisory Committee. Centers for Disease Control and Prevention. https://www.cdc.gov/infectioncontrol/guidelines/disinfection/index.htmlUpdated December 29, 2009. Accessed July 1, 2016.
4. Burlingame, B., Denholm, B., Link, T., Ogg, M., Spruce, L., Spry, C., Van Wicklin, S., Wood, A. Guidelines for Perioperative Practice. Denver, CO: Association of Perioperative Registered Nurses; 2016.