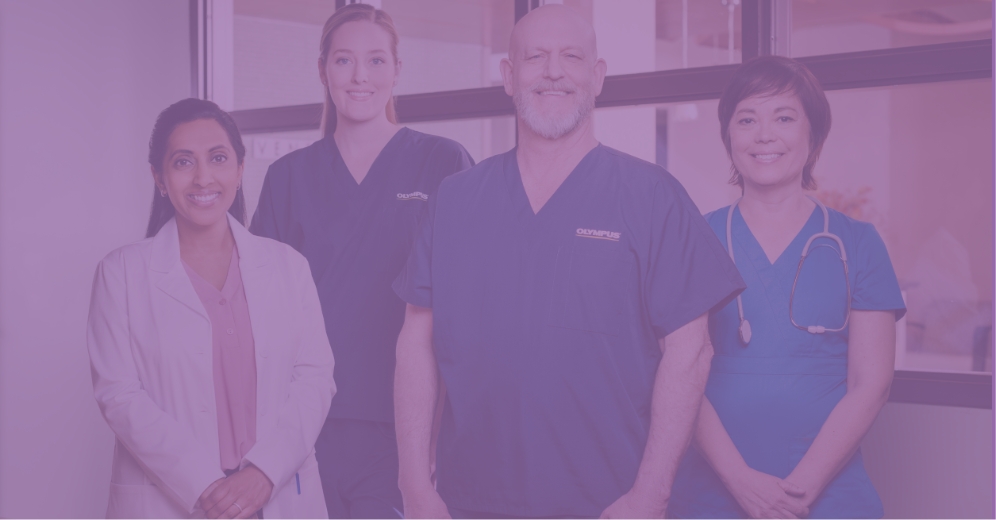 People
Olympus combines our innovative capabilities in endoscopic technology with your unique skill sets to help improve clinical outcomes, reduce operating costs, and enhance patient quality of life. At every stage of this partnership, we have someone in place to make sure that you are making the most of your equipment, experience, and investment
We continue to make sure that your needs and your patients are the driving force behind all of our decisions.
Our support teams ensure that you have the tools you need to provide lifesaving care to your patients. Whether on our capital, device, or service side, we are one group of people working toward one goal. It's a level of collaboration that's truly unique in today's marketplace. It's what allows us to keep moving forward as we maintain a synergistic approach to endoscopy and patient-centric care.

Clinical Endoscopy Specialists
The CES mission is to positively influence the procedure while making sure that you are using your equipment to its fullest potential.

Endoscopy Account Managers
EAMs are experts in the way Olympus products work, the way they are used, and the disease states they are used to diagnose and treat.

EndoTherapy Territory Managers
ETMs lead ongoing product training sessions and in-servicing of all EndoTherapy products both during procedures and in between cases.

Field Service Engineers
The goal of every FSE is maximizing your uptime so you can keep patient care on track and at an exceptional level.

Endoscopy Support Specialists
Every ESS effort helps enhance the performance and value of your Olympus endoscopy equipment.

Technical Assistance Specialists
TAS's are with you every step of the way—from product installation to daily operation—to keep your equipment running smoothly every day.
Customer Service Representatives
Calls and requests are handled quickly and efficiently, with an emphasis on keeping you and your team performing at maximum efficiency.

Clinical Application Specialists
The CAS's goal is to help you achieve success with Olympus EUS products, allowing you to effectively reach your goals.

Innovation Every Step of the Way
Building on a long legacy of innovation, Olympus provides healthcare facilities around the world with the tools and technologies that allow today's most advanced endoscopy. Through a full circle of service and support, ongoing education and training, and flexible financing, we give you the confidence you need to help patients live better lives.
For more information on Olympus' full-circle approach to next-generation endoscopy, schedule a free consultation with Olympus.