VERSAPOINT II Bipolar Electrosurgery System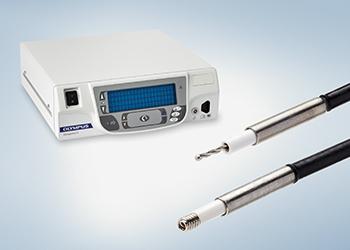 Hysteroscope
VERSAPOINT II Bipolar Electrosurgery System
Products based on the GYNECARE VERSAPOINT Bipolar Electrosurgery System, with its long history of safe use.
The VERSAPOINT II Bipolar Electrosurgery System allows surgeons to diagnose and treat small fibroids, polyps, intrauterine adhesions or septa.
Twizzle Tip Electrode
The Twizzle Tip electrode is the instrument of choice for tissue cutting and is ideally suited for septum removals and the resection of endometrial polyps.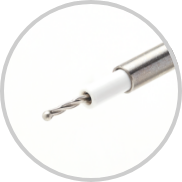 Spring Tip Electrode
The Spring Tip electrode has a wider vaporizing effect than the Twizzle, making it the instrument of choice for resection or bulk vaporization of a fibroid.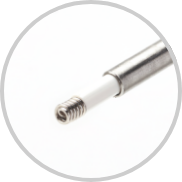 ---
Key Benefits
VERSAPOINT II Generator - The unique technology of the VERSAPOINT II Bipolar Generator allows it to release the energy as needed, ensuring vapor pocket formation. It automatically recognizes default settings specific to the connected electrode, while the customizable dual footswitch offers user control during the procedure and provides the ability to change settings as needed.
---
Product Support
| | |
| --- | --- |
| Part No. | Description |
| VPII-GEN | VERSAPOINT II Generator, Footswitch, Power Cord |
Bipolar Electrosurgical System
| | |
| --- | --- |
| Part No. | Description |
| WA47790A | VERSAPOINT II Generator |
| WA47789A | VERSAPOINT II Footswitch |
| WA47785A | VERSAPOINT II Connector Cable, black plug, non-sterile, reusable |
| B125060A | Power Cord ESG/AFU, USA/CAN |
5 Fr Bipolar Hysteroscopic Electrodes (Pack of 5)
| | |
| --- | --- |
| Part No. | Description |
| WA47782A | VERSAPOINT Electrode, Twizzle Tip, 5 Fr |
| WA47783A | VERSAPOINT Electrode, Spring Tip, 5 Fr |
24 Fr Bipolar Resection Electrodes (pack of 5)
| | |
| --- | --- |
| Part No. | Description |
| WA47786A | 01985 VERSAPOINT Bipolar Resection Electrode-2.5 mm Angled Loop |
| WA47788A | 01950 VERSAPOINT Bipolar Resection Electrode-Vaporizing Tip (0°) |
Olympus Service & Repair
Olympus offers a broad range of services to healthcare professionals and to our customers, including contact hour and peer-based training courses; information, training tools and videos on infection control and reprocessing; authorized repair services and support on Olympus equipment; and financing solutions to help your facility with acquisition of new capital equipment, accessories, and maintenance plans.
Need Help?
Cleaning, Disinfection & Sterilization
The proper cleaning, disinfection, and sterilization of Olympus equipment is equally as important as their proper use. 
Olympus Training & Proper Use
Olympus offers a variety of educational opportunities for medical and surgical healthcare professionals. 
Peer-To-Peer Training
Our Professional Education Program provides multiple types of peer-to-peer training in order to meet the specific educational needs of physicians and nurses focused on the safe and effective use of Olympus products.
Olympus University
Olympus Professional Education also offers training programs through Olympus University (OU). Geared toward nurses, reprocessing technicians and biomeds, many of the OU courses are available for nursing contact hour continuing education credit.
Visit Olympus University