3 MM Hysteroscope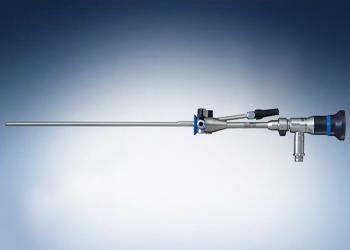 Hysteroscope
3 MM Hysteroscope
The 3 mm Telescope System is the gold standard providing you with the hysteroscope of choice, combining slim outer diameter, high flow characteristics and an excellent image. The use of high value materials and a unique design ensure long-term durability and excellent autoclavability. 
---
Key Benefits
Sheath compatibility: Olympus rigid hysteroscopes are compatible with a full range of sheaths, making them versatile for procedures such as small polyp removals or endometrial ablations. 
Autoclaving guarantee: Olympus rigid hysteroscopes come with a Five-Year Goldtip Guarantee™ against autoclaving damage.
Product Support
3 MM Telescope
A4674A
Telescope, 3mm, 30° direction of view, wide angle, autoclavable
A4673A
Telescope, 3 mm, 12° direction of view, autoclavable
A4672A
Telescope, 3 mm, 0° direction of view, fiber optic, autoclavable, quick-lock
A0547
Protection tube, for telescopes
WA05990A
Instrument tray, for 2 telescopes
Diagnostic Systems
A4770
Sheath, 4 mm, single flow diagnostic system
A4771
Sheath, 4.5 mm, 3 Fr channel, continuous flow diagnostic system
Continuous Flow Therapeutic System
A4772
Sheath, 5.5 mm, 5 Fr channel
A4773
Sheath, 6.5 mm, 7 Fr channel
Olympus Service & Repair
Olympus offers a broad range of services to healthcare professionals and to our customers, including contact hour and peer-based training courses; information, training tools and videos on infection control and reprocessing; authorized repair services and support on Olympus equipment; and financing solutions to help your facility with acquisition of new capital equipment, accessories, and maintenance plans.
Need Help?
Cleaning, Disinfection & Sterilization
The proper cleaning, disinfection, and sterilization of Olympus equipment is equally as important as their proper use. 
Olympus Training & Proper Use
Olympus offers a variety of educational opportunities for medical and surgical healthcare professionals. 
Peer-To-Peer Training
Our Professional Education Program provides multiple types of peer-to-peer training in order to meet the specific educational needs of physicians and nurses focused on the safe and effective use of Olympus products.
Olympus University
Olympus Professional Education also offers training programs through Olympus University (OU). Geared toward nurses, reprocessing technicians and biomeds, many of the OU courses are available for nursing contact hour continuing education credit.
Visit Olympus University