SlimLine™ Hysteroscope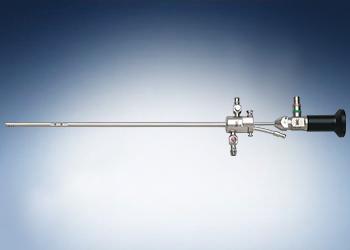 Hysteroscope
SlimLine™ Hysteroscope
SlimLine Hysteroscopes deliver large scope optics and flow rates while improving patient comfort while allowing for visualization of the uterine cavity. A slender outer diameter almost eliminates the need for cervical dilation. 
---
Key Benefits
Optimally Designed Hysteroscope: Small 2.7 mm diameter telescope paired with a 3.5 mm diagnostic sheath supports minimal trauma; designed for easy insertions. Wide-angle optics and the long 25 cm working length is versatile for all clinical settings.
Patient Comfort: Wide angle optics and a 30° direction of view provide an extensive uterine scan by merely rotating the scope. This minimizes manipulation for improved patient comfort.
High Flow Rates: Consistently high flow rates provide clear visualization throughout the procedure even during hand instrument use.
Product Support
Telescopes
G27L-30WA
Long Foroblique Telescope, 30°, wide angle, autoclavable, 2.7 mm
G27L-12A
Long Operative Telescope, 12°, autoclavable, 2.7 mm
Sheaths
GY275L-DS
Diagnostic Sheath, inflow only, 3.5 mm outer diameter (for G27YL telescopes)
2Y275l-S
SlimLine Outer Sheath, 5.5 mm
Obtruators
GY275L-VO
SlimLine Visual Obturator with Dilating Tip
Bridges
GY275L-B
SlimLine Operative Bridge
Hand Instruments
GYA-5
Semi Rigid Alligator Forceps, 5 Fr, 42 cm
GYB-5
Semi Rigid Biopsy Forceps, 5 Fr, 42 cm
GYS-5
Semi Rigid Scissors, 5 Fr, 42 cm
Protective Sheath
TEL-SH
ScopeGuard™ Protective Sheath for G27 and M3™ telescopes
Olympus® Service & Repair
Olympus offers a broad range of services to healthcare professionals and to our customers, including contact hour and peer-based training courses; information, training tools and videos on infection control and reprocessing; authorized repair services and support on Olympus equipment; and financing solutions to help your facility with acquisition of new capital equipment, accessories, and maintenance plans.
Need Help?
Cleaning, Disinfection & Sterilization
The proper cleaning, disinfection, and sterilization of Olympus equipment is equally as important as their proper use.
Olympus Training & Proper Use
Olympus Continuum, is a comprehensive platform of education and training experiences led by healthcare experts from around the world. Learning opportunities include hands-on courses, online learning, lectures and workshops, peer-to-peer training, accredited continuing education, and on-demand learning.
For more information: Olympus Continuum Video