StrobeLED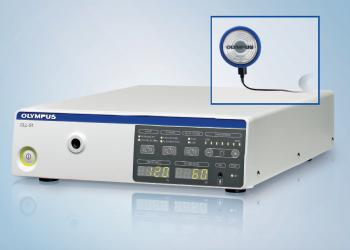 Light Source
StrobeLED
The Olympus stroboscopy light source (StrobeLED) – enables precise and noise-free examination for the diagnosis of voice disorders.
---
Key Benefits
Advanced Stroboscopy Algorithm - Dual-Filter system reduces flickering and blackouts
Strong Illumination - Provides bright viewing in both permanent and stroboscopy modes
Adjustable Settings - Settings such as Duty Cycle and Strobe Phase offer a range of options depending on the clinical application
Noise-free Design - Minimized side tone distraction during examination
Easy-to-Use - Product design simplifies setup and use of StrobeLED during procedures
Microphone Options - Choose between a lapel or throat microphone to find the right solution for every diagnostic situation
Product Support
Power supply
Voltage: 100 – 240 V
Frequency: 50 / 60 Hz
Power consumption: 100 VA
Fuse: T 3.15 A 250 V
Dimensions
Width: 370 mm
Height: 111 mm
Depth: 475 mm
Weight: 7.85 kg
Olympus® Service & Repair
Olympus offers a broad range of services to healthcare professionals and to our customers, including contact hour and peer-based training courses; information, training tools and videos on infection control and reprocessing; authorized repair services and support on Olympus equipment; and financing solutions to help your facility with acquisition of new capital equipment, accessories, and maintenance plans.
Need Help?
---