StoneMasterV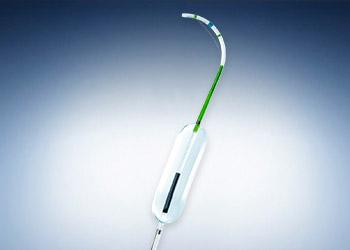 Papillary Balloon Dilation
StoneMasterV
The StoneMasterV combines sphincterotomy and papillary dilation into a single endoscopic device, improving efficiency by eliminating the need for device exchange, and simplifying biliary duct stone management.
---
Key Benefits
Endoscopic sphincterotomy plus endoscopic papillary dilation produces a higher rate of success and fewer complications when removing stones equal to or greater than 12mm.1,2 The 2019 American Society for Gastrointestinal Endoscopy (ASGE) guideline on the role of endoscopy in the evaluation and management of choledocholithiasis suggests performing sphincterotomy with endoscopic papillary large balloon dilation instead of sphincterotomy alone in patients with large bile duct stones. 3
Other Benefits Include:
Optimized Dilation: The 4mm length balloon provides positional stability and inflates to 3 controlled dilation diameters
Short-wire design: Short wire compatibility to suit physician technique and enable use a guidewire lock at the biopsy port.
Stable Knife Orientation: The pre-curved distal end StoneMasterV extrudes to a stable 11 o'clock orientation, assisting with cannulation of the papilla and assuring optimized cutting.
References: 1. Kim JH, Yang MJ, Hwang JC, Yoo BM. Endoscopic papillary large balloon dilation for the removal of bile duct stones. World J Gasteroenterol. 2013;19(46):8580-8594. doi.10.3748/wjg.v19.i46.8580. 2. Rouquette O, Bommelaer G, Abergel A, Poincloux L. Large balloon dilation post endoscopic sphincterotomy in removal of difficult common bile duct stones: a literature review. World J Gastroenterol. 2014;20(24):7760-7766. doi.10.3748/wjg.v20.i24.7760. 3. Buxbaum J, Abbas Fehmi SM, Sultan S et al. ASGE guideline on the role of endoscopy in the evaluation and management of choledocholithiasis. Gastrointestinal Endoscopy, 2019; 31e.5:1-46.
Product Support
Distal Tip Diameter:  4.4 Fr
Dilation Diameters:  8 / 10 / 12 mm or 12 / 15 /18 mm
Balloon Length:  40 mm
Compatible guidewire:  0.035 in and 0.025 in
Compatible inflation device:  MAJ-1740
Package:  1 per box, sterile
Use:  Single use
Olympus® Service & Repair
Olympus offers a broad range of services to healthcare professionals and to our customers, including contact hour and peer-based training courses; information, training tools and videos on infection control and reprocessing; authorized repair services and support on Olympus equipment; and financing solutions to help your facility with acquisition of new capital equipment, accessories, and maintenance plans.
Need Help?
Cleaning, Disinfection & Sterilization
The proper cleaning, disinfection, and sterilization of Olympus equipment is equally as important as their proper use.
Olympus Training & Proper Use
Olympus Continuum, is a comprehensive platform of education and training experiences led by healthcare experts from around the world. Learning opportunities include hands-on courses, online learning, lectures and workshops, peer-to-peer training, accredited continuing education, and on-demand learning.
For more information: Olympus Continuum Video
---