VorticCatchV Stone Retrieval Basket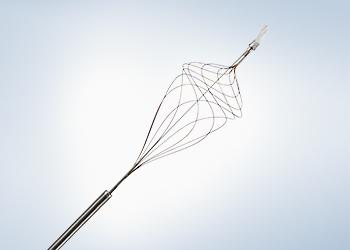 Basket
VorticCatchV Stone Retrieval Basket
The VorticCatchV Stone Retrieval Basket features a unique eight wire nitinol basket design that becomes tighter at the distal end to enable capture of a wide range of stones and sludge. The basket design makes VorticCatchV ideally suited for capturing stones in narrow ducts, stones stuck in a bile duct pocket, or for retrieving fragments and sludge after lithotripsy.
---
Key Benefits
Access to Difficult to Reach Stones: VorticCatchV maintains its open basket width at the distal end, allowing for high stone retrieval performance and accessibility to stones lodged in difficult to reach spaces in the bile duct.
Distally Wire-guided Tip Design: The distally wire-guided tip facilitates navigation into the intrahepatic ducts and around large stones.
Simple Emergency Lithotripsy: VorticCatchV features a metal coil sheath and connects to the LithoCrushV lithotripsy handle for simplified emergency lithotripsy in case of basket impaction.
Product Support
Basket Shape:  8-wire spiral
Open Basket Width:  20 mm
Basket Material:  Nitinol
Emergency Lithotripsy Compatible:  Yes
Package:  1 per box, sterile
Use:  Single Use
Olympus Training & Proper Use
Olympus offers a variety of educational opportunities for medical and surgical healthcare professionals. 
Peer-To-Peer Training
Our Professional Education Program provides multiple types of peer-to-peer training in order to meet the specific educational needs of physicians and nurses focused on the safe and effective use of Olympus products.
Olympus University
Olympus Professional Education also offers training programs through Olympus University (OU). Geared toward nurses, reprocessing technicians and biomeds, many of the OU courses are available for nursing contact hour continuing education credit.
Visit Olympus University
---