VorticCatchV Stone Retrieval Basket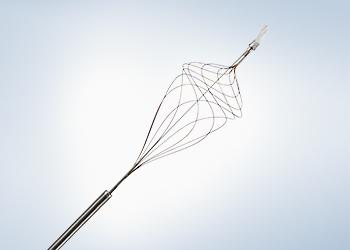 Basket
VorticCatchV Stone Retrieval Basket
The VorticCatchV Stone Retrieval Basket features a unique eight wire nitinol basket design that becomes tighter at the distal end to enable capture of a wide range of stones and sludge. The basket design makes VorticCatchV ideally suited for capturing stones in narrow ducts, stones stuck in a bile duct pocket, or for retrieving fragments and sludge after lithotripsy.
---
Key Benefits
Access to Difficult to Reach Stones: VorticCatchV maintains its open basket width at the distal end, allowing for high stone retrieval performance and accessibility to stones lodged in difficult to reach spaces in the bile duct.
Distally Wire-guided Tip Design: The distally wire-guided tip facilitates navigation into the intrahepatic ducts and around large stones.
Simple Emergency Lithotripsy: VorticCatchV features a metal coil sheath and connects to the LithoCrushV lithotripsy handle for simplified emergency lithotripsy in case of basket impaction.
Product Support
Basket Shape:  8-wire spiral
Open Basket Width:  20 mm
Basket Material:  Nitinol
Emergency Lithotripsy Compatible:  Yes
Package:  1 per box, sterile
Use:  Single Use
Olympus Training & Proper Use
Olympus Continuum, is a comprehensive platform of education and training experiences led by healthcare experts from around the world. Learning opportunities include hands-on courses, online learning, lectures and workshops, peer-to-peer training, accredited continuing education, and on-demand learning.
For more information: Olympus Continuum Video
---