Stents - Urology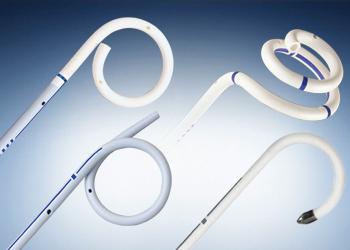 Ureteral Stents
Stents - Urology
Olympus offers the largest selection of ureteral stents on the market, each ensuring the highest standards of quality and performance. Olympus ureteral stents are designed to meet the procedural needs of the surgeon and the comfort needs of the patient. Olympus stent types includes dual- and single-durometer, Tecoflex®, and silicone—each with a selection of curl designs, tip configurations, and surface coatings. 
---
Product Support
Olympus ureteral stent designs include: Classic Closed Tip, Classic Double PigTail, Double-J®, LithoStent™, Lubri-Flex®, Multi-Flex™, Quadra-Coil® Multi-Length, Sof-Curl™, and UroGuide™. For detailed specification or to determine the appropriate instrument for your needs, please contact customer service for assistance.
Olympus Training & Proper Use
Olympus offers a variety of educational opportunities for medical and surgical healthcare professionals. 
Peer-To-Peer Training
Our Professional Education Program provides multiple types of peer-to-peer training in order to meet the specific educational needs of physicians and nurses focused on the safe and effective use of Olympus products.
Olympus University
Olympus Professional Education also offers training programs through Olympus University (OU). Geared toward nurses, reprocessing technicians and biomeds, many of the OU courses are available for nursing contact hour continuing education credit.
Visit Olympus University
---