Quadra-Coil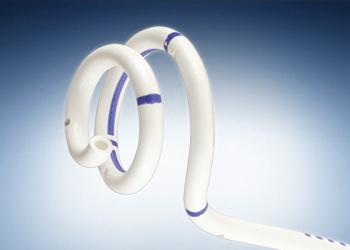 Ureteral Stents
Quadra-Coil
Olympus Quadra-Coil® Multi-Length ureteral stents are high performance Tecoflex® stents that save inventory, shelf space, and resources. An ultra-slippery hydrophilic coating allows the stent to glide over any guidewire and through the most difficult anatomy, providing ease of placement and patient comfort. The stents can accommodate ureteral lengths from 22-28 cm, and each stent is supplied with an attached braided nylon tether and one RAMROD™ metal tip push catheter.
---
Key Benefits
Advanced Tecoflex construction: This unique design delivers a stent that is firm during placement for easy passage then softens at body temperature for increased patient comfort.
Variable length: These stents can accommodate ureteral lengths from 22-28 cm, saving inventory, shelf space, and resources.
Bladder and kidney curl: The exclusive bladder curl and 360° kidney curl design minimizes migration and trigone irritation.
Kink-resistant: The spiral drainage hole design resists kinking and buckling.
Ultra-slippery coating:  The hydrophilic coating on the stent's surface ensures easy insertion and removal.
Radiopaque filler: The filler provides clear fluoroscopic visualization.
Product Support
Olympus offers the largest selection of ureteral stents on the market, each ensuring the highest standards of quality and performance. Olympus ureteral stents are designed to meet the procedural needs of the surgeon and the comfort needs of the patient. Olympus stent types includes dual- and single-durometer, Tecoflex®, and silicone—each with a selection of curl designs, tip configurations, and surface coatings. Olympus ureteral stent designs include: Classic Closed Tip, Classic Double PigTail, Double-J®, LithoStent™, Lubri-Flex®, Multi-Flex™, Quadra-Coil® Multi-Length, Sof-Curl™, and UroGuide™. For detailed specification or to determine the appropriate instrument for your needs, please contact customer service for assistance.
Olympus Training & Proper Use
Olympus Continuum, is a comprehensive platform of education and training experiences led by healthcare experts from around the world. Learning opportunities include hands-on courses, online learning, lectures and workshops, peer-to-peer training, accredited continuing education, and on-demand learning.
For more information: Olympus Continuum Video