CleverCut3 V Sphincterotome with VisiGlide Guidewire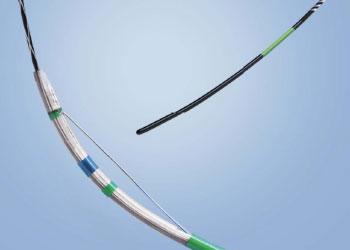 Sphincterotome
Preloaded Sphincterotome
CleverCut3 V Sphincterotome with VisiGlide Guidewire
Designed for optimal cannulation and minimal tissue damage, the CleverCut3V™ sphincterotome is available in multiple configurations to suit the needs of virtually every physician. Now with the 0.025" guidewire preloaded, the combination of the CleverCut3V and VisiGlide™ guidewire provides a unique cannulation platform with the potential to improve cannulation rates.
---
Key Benefits
CleverCut3V Benefits: Tapered tip design for smooth insertion (KD-V631M series only), CleverCut coating for enhanced safety, and a precurved tip that bows "true" for assistance with good positioning of the cutting wire.
VisiGlide Benefits:  Procedural flexibility of having a 0.025-inch guidewire featuring the same stiffness of a regular 0.035-inch guidewire, advanced endoscopic and fluoroscopic markings to assist with measurement, and excellent 1:1 torqueability allowing for easier cannulation of the hilar area as well as improved stricture navigation.
Benefits of the Preloaded Design: All-in-one packaging with quick-release design simplifies procedure preparation and the integrated sphincterotome handle and guidewire holder provide easier control of the guidewire.
Product Support
CleverCut3V Sphincterotome with VisiGlide Guidewire is available in various configurations to meet the needs of every clinical application. 
For detailed specifications please contact customer service for assistance.
Olympus Training & Proper Use
Olympus Continuum, is a comprehensive platform of education and training experiences led by healthcare experts from around the world. Learning opportunities include hands-on courses, online learning, lectures and workshops, peer-to-peer training, accredited continuing education, and on-demand learning.
For more information: Olympus Continuum Video
---