PKS SEAL Open Forceps (915000PK)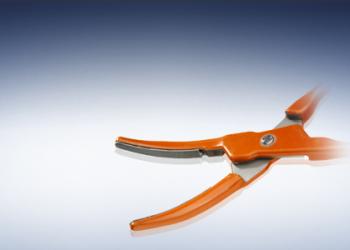 Handpiece
PK Instruments
PKS SEAL Open Forceps (915000PK)
The PKS SEAL Open Forceps effectively coagulates the targeted vessel providing an even, uniform seal with enhanced hemostasis.
---
Key Benefits
Seals without sutures: The forceps effectively seals vessels up to 7 mm, virtually eliminating the need for sutures and staples.
Low profile design: The forceps shape improves access to tight working spaces.
Protection from unintended thermal effect: A non-conductive outer jaw coating protects adjacent tissue during thermal delivery.
---
Product Support
PKS SEAL OPEN FORCEPS
For use with PK G400 Generator only
915000PK*: PKS SEAL Open Forceps, curved Jaw, with cord, 25 cm
For use with PK SuperPulse Generator only
3103PK*: PKS SEAL Open Forceps, curved Jaw, 25 cm
3900: PK reusable connector cable (3-pin)
* Supplied sterile, single-use, disposable
PK G400 GENERATOR
777000: G400 Generator with 9-pin inputs
744010: PK  footswitch
560085-002: Generator power cord
710003: Dual footswitch connector cable
700000: PKS and G400 Generator cart
PK SUPERPULSE GENERATOR
744000: PK SuperPulse Generator 110 - 220 V, 60 Hz
744010: PK footswitch
710003: Dual footswitch connector cable
3900: PK reusable connector cable (3-pin)
3905: PK reusable connector cable (5-pin)
Olympus Training & Proper Use
Olympus offers a variety of educational opportunities for medical and surgical healthcare professionals. 
Peer-To-Peer Training
Our Professional Education Program provides multiple types of peer-to-peer training in order to meet the specific educational needs of physicians and nurses focused on the safe and effective use of Olympus products.
Olympus University
Olympus Professional Education also offers training programs through Olympus University (OU). Geared toward nurses, reprocessing technicians and biomeds, many of the OU courses are available for nursing contact hour continuing education credit.
Visit Olympus University