PKS Omni (970010PC)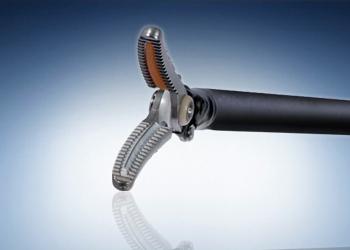 Handpiece
PK Instruments
PKS Omni (970010PC)
The PKS Omni delivers multiple tissue effects and exceptional functionality with advanced bipolar coagulation and cutting from a single instrument. The result is an instrument providing outstanding versatility for laparoscopic and open procedures.
---
Key Benefits
Superior cutting: True bipolar cutting provides fast, precise tissue transection.
Enhanced dissection: Dual-action jaws facilitate mechanical dissection.
Improved functionality: The improved tip design allows spot coagulation and better grasping capabilities.
---
Product Support
PKS OMNI
For use with PK G400 Generator only
970000PC*: PKS Omni, with cord, 5 mm, 15 cm
970005PC*: PKS™ Omni, with cord, 5 mm, 24 cm
970010PC*: PKS™ Omni, with cord, 5 mm, 33 cm
970015PC*: PKS™ Omni, with cord, 5 mm, 45 cm
* Supplied sterile, single-use, disposable
ACCESSORIES
9005PK: Instrument cleaning brush, 10/box
PK G400 GENERATOR
777000: G400 Generator with 9-pin inputs
744010: PK  footswitch
560085-002: Generator power cord
710003: Dual footswitch connector cable
700000: PKS and G400 Generator cart
Olympus Training & Proper Use
Olympus Continuum, is a comprehensive platform of education and training experiences led by healthcare experts from around the world. Learning opportunities include hands-on courses, online learning, lectures and workshops, peer-to-peer training, accredited continuing education, and on-demand learning.
For more information: Olympus Continuum Video