GLIDEWIRE® Urologic Hydrophilic Coated Guidewire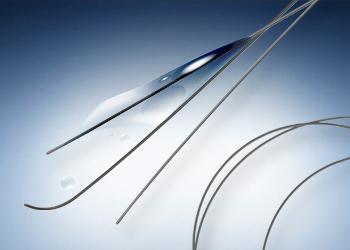 Guidewires
GLIDEWIRE® Urologic Hydrophilic Coated Guidewire
GLIDEWIRE® Urologic Guidewire is the most preferred hydrophilic coated wire, and has years of proven performance. It's kink-resistant core, coated with a proprietary polymer jacket and a lubricious hydrophilic coating, facilitates efficient access and reliable device tracking.
---
Key Benefits
Highest safety profile: Designed to minimize the risk of trauma and capable of protecting against uroendothelial perforation and submucosal advancement.*
Highly lubricious coating: Hydrophilic coating minimizes friction when wet thereby facilitating smooth advancement and easy tracking.
Consistency and excellent quality of manufacturing: Known for consistency from wire to wire.
*Based on Benchtop Study
Torricelli FC, De S, Sarkissian C, Monga M. Hydrophilic Guidewires: Evaluation and Comparison of Their Properties and Safety. J Urology. 2013 Nov; 82(5):1182-6-C.B. 3.21
---
Product Support
Olympus guidewires are engineered to ensure rapid access, easy advancement, smooth tracking, and maximum maneuverability. They help maintain precise control at every step of the procedure. Olympus guidewires are available in a variety of core materials, coatings, tips, and sizes—ensuring the right combination of torque, lubricity, and visibility for optimum results. Olympus urology guidewire portfolio includes: GLIDEWIRE® Urologic Guidewire, UltraTrack, SureGlide®, Quattro™, Bentson, PTFE-Coated, and Amplatz. For detailed specification or to determine the appropriate device for your needs, please contact customer service for assistance.
GLIDEWIRE® Urologic Hydrophilic Coated Guidewire and GLIDEWIRE® Urologic Guidewire are registered trademarks of Terumo Corporation.
Olympus Training & Proper Use
Olympus Continuum, is a comprehensive platform of education and training experiences led by healthcare experts from around the world. Learning opportunities include hands-on courses, online learning, lectures and workshops, peer-to-peer training, accredited continuing education, and on-demand learning.
For more information: Olympus Continuum Video