EVIS EXERA III for Gastroenterology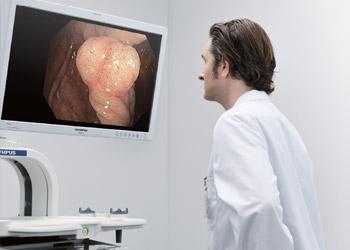 Imaging System
EVIS EXERA III for Gastroenterology
With the EVIS EXERA III endoscopy system, physicians can see the interior of the body more clearly than ever before to find and treat GI diseases as early as possible. Refined technology delivers exceptional control of the endoscope for close-up views while advanced imaging features and renowned Olympus optics deliver remarkable clarity in every detail. The system is designed to ease setup and reprocessing, manage patient data, communicate with hospital networks, and provide seamless IT integration to meet your unique needs now and in the future.
---
Product Support
Olympus® Service & Repair
Olympus offers a broad range of services to healthcare professionals and to our customers, including contact hour and peer-based training courses; information, training tools and videos on infection control and reprocessing; authorized repair services and support on Olympus equipment; and financing solutions to help your facility with acquisition of new capital equipment, accessories, and maintenance plans.
Need Help?
Cleaning, Disinfection & Sterilization
The proper cleaning, disinfection, and sterilization of Olympus equipment is equally as important as their proper use.
Olympus Training & Proper Use
Olympus Continuum, is a comprehensive platform of education and training experiences led by healthcare experts from around the world. Learning opportunities include hands-on courses, online learning, lectures and workshops, peer-to-peer training, accredited continuing education, and on-demand learning.
For more information: Olympus Continuum Video
---