Celon Elite Generator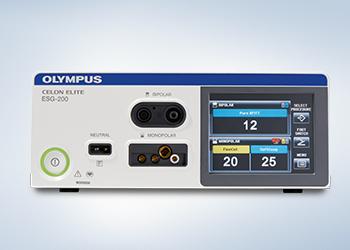 Energy
RF Energy
Celon Elite Generator
The Celon Elite Generator provides intelligent power control for deployment of bipolar radio-frequency induced thermotherapy (RFITT) applicators in ENT procedures. It is simple to use and provides automatic monitoring and regulation of the entire soft coagulation process.
---
Key Benefits
Automatic control: The generator monitors and regulates the entire soft-coagulation process automatically and controls the Celon bipolar radio-frequency induced thermotherapy (RFITT) applicators. Automatic dosimetry control and 3D impedance feedback control ensure reproducible results, and an acoustic signal provides continuous information on the progress of treatment.
Focused therapy: The bipolar electrode configuration of the RFITT applicators allows the treatment area to be precisely defined, as the radio-frequency current flows exclusively between the two poles of the applicator tip. Soft coagulation is generally achieved after just a few seconds.
Simple setup: Prior to treatment, it is only necessary to set the power recommended for the selected application and the desired treatment result.
---
Product Support
Mains Voltage Range: 100-120
Output Power: 1-25 Watts
Width: 267 mm
Depth: 335 mm
Height: 165 mm
Olympus Service & Repair
Olympus offers a broad range of services to healthcare professionals and to our customers, including contact hour and peer-based training courses; information, training tools and videos on infection control and reprocessing; authorized repair services and support on Olympus equipment; and financing solutions to help your facility with acquisition of new capital equipment, accessories, and maintenance plans.
Need Help?
Cleaning, Disinfection & Sterilization
The proper cleaning, disinfection, and sterilization of Olympus equipment is equally as important as their proper use.
Olympus Training & Proper Use
Olympus Continuum, is a comprehensive platform of education and training experiences led by healthcare experts from around the world. Learning opportunities include hands-on courses, online learning, lectures and workshops, peer-to-peer training, accredited continuing education, and on-demand learning.
For more information: Olympus Continuum Video