Celon ProBreath (WB990310)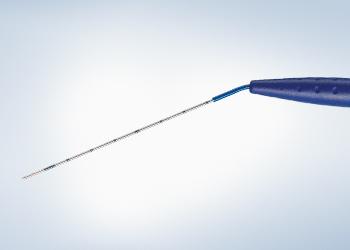 Turbinate
Celon ProBreath (WB990310)
Celon ProBreath is the bipolar radio-frequency induced thermotherapy (RFITT) applicator for submucosal volume reduction of hyperplastic nasal turbinates, safely and gently developing predictably sized lesions in 4-10 seconds.
---
Key Benefits
Characteristics
CelonProBreath is the bipolar RFITT applicator for submucosal volume reduction of hyperplastic nasal turbinates.
Indications
Hypertrophy of the nasal turbinates
Advantages
Rapid procedure with only a few seconds needed for coagulation

Gentle, repeatable treatment

Precise and reproducible thermo-lesions

Outpatient procedure under local anesthesia

Minimal pain during and after the procedure

Ciliated epithelium remains intact

Low risk of bleeding
---
Product Support
Applicator Tip: Conical
Electrode Diameter: 1.1 mm
Shaft Length: 100 mm
Grip Length: 140 mm
Cable Length: 3 m
Permissible Power Range: 0-25 Watts
Olympus® Service & Repair
Olympus offers a broad range of services to healthcare professionals and to our customers, including contact hour and peer-based training courses; information, training tools and videos on infection control and reprocessing; authorized repair services and support on Olympus equipment; and financing solutions to help your facility with acquisition of new capital equipment, accessories, and maintenance plans.
Need Help?
Cleaning, Disinfection & Sterilization
The proper cleaning, disinfection, and sterilization of Olympus equipment is equally as important as their proper use.
Olympus Training & Proper Use
Olympus Continuum, is a comprehensive platform of education and training experiences led by healthcare experts from around the world. Learning opportunities include hands-on courses, online learning, lectures and workshops, peer-to-peer training, accredited continuing education, and on-demand learning.
For more information: Olympus Continuum Video