CleverCut3V Distal Wireguided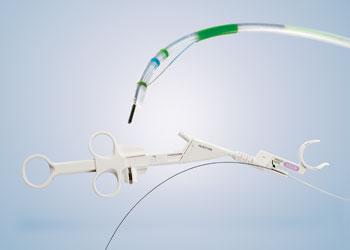 Sphincterotome
CleverCut3V Distal Wireguided
Designed for enhanced performance while complementing the user's technique, CleverCut3V Distal Wireguided Sphincterotomes preloaded with the VisiGlide line of guidewires promote safety and efficiency through advanced technology.
---
Key Benefits
Increased Efficiency - An advanced c-channel specially designed for the VisiGlide line of guidewires, as well as an intuitive guidewire insertion port, promote increased procedural efficiency for short-wire users.
Enhanced Safety - Safety features such as the CleverCut coating on the proximal end of the cutting wire and optimal knife orientation help to protect surrounding tissue while providing effective sphincterotomy.
Smooth Insertion - A refined 3.9 Fr tapered tip provides smooth insertion during difficult cannulations resulting from strictures or when accessing the minor papilla. (KD-VC631Q series only)
Integrated Access - The integrated VisiGlide line of guidewires provides the endoscopist with the right wire for all situations based upon preference, technique, and anatomical requirements.
Product Support
Distal Tip Diameter: 3.9 Fr, 4.4 Fr
Maximum insertion portion diameter: 2.5 mm
Working length: 1950 mm
Compatible guidewire: 0.035 in and 0.025 in
Guidewire tip shapes: Straight, angled
Package: 1 per box, sterile
Use: Single Use
Olympus Service & Repair
Olympus offers a broad range of services to healthcare professionals and to our customers, including contact hour and peer-based training courses; information, training tools and videos on infection control and reprocessing; authorized repair services and support on Olympus equipment; and financing solutions to help your facility with acquisition of new capital equipment, accessories, and maintenance plans.
Need Help?
Cleaning, Disinfection & Sterilization
The proper cleaning, disinfection, and sterilization of Olympus equipment is equally as important as their proper use. 
Olympus Training & Proper Use
Olympus offers a variety of educational opportunities for medical and surgical healthcare professionals. 
Peer-To-Peer Training
Our Professional Education Program provides multiple types of peer-to-peer training in order to meet the specific educational needs of physicians and nurses focused on the safe and effective use of Olympus products.
Olympus University
Olympus Professional Education also offers training programs through Olympus University (OU). Geared toward nurses, reprocessing technicians and biomeds, many of the OU courses are available for nursing contact hour continuing education credit.
Visit Olympus University
---