Automated Pathology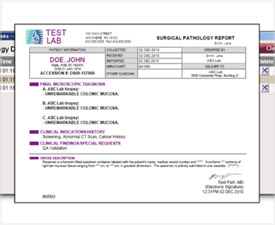 The Olympus EndoWorks 7.4* interface offers endoscopy providers an automated pathology solution, helping clinicians simplify and expedite the pathology requisition and report retrieval process.
The pathology interface allows clinicians to generate specimen labels, view and print daily specimen logs, electronically access status and diagnostic reports, smoothly update patient reports, search by patient, print requisitions and lab results, and interface pathology records with the EndoWorks system. In addition, the interface allows for automatic attachment of essential procedure data and summary notes, allowing the pathologist to see a more comprehensive picture of the patient's condition for a more specific diagnosis.
Download Documents
* Some earlier versions of Olympus EndoWorks can be upgraded via a patch to use the pathology interface.