Visera Elite Video System (OTV-S190 and CLV-S190)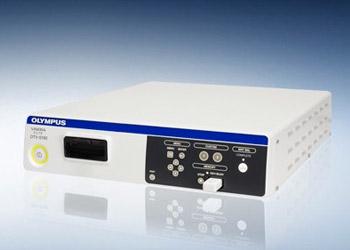 Video System
Visera Elite Video System (OTV-S190 and CLV-S190)
Advanced HDTV Video Processor and High-Intensity 300-Watt Light Source - both with NBI.
---
Key Benefits
High-resolution HDTV imaging capability provides the optimal image for a wide range of surgical procedures with both rigid and flexible endoscopes.
Full support for the World's First HIGH-DEFINITION Flexible Cysto-Nephro Videoscope, the CYF-VH, for a crystal clear view of the bladder and kidneys.
Structure enhancement: an imaging processing technique that electronically emphasizes the detailed patterns and edges of an image to increase sharpness.
Noise Reduction Technology reduces the appearance of noise on all Olympus Videoscopes.
1080p Video, DVI, HD-SDI, and analog video outputs provide flexibility to integrate Olympus with existing equipment without compromising performance.
Patented Narrow-Band Imaging (NBI) is now brighter when compared to previous Visera models.
Product Support
Product Specs OTV-S190
Power Supply
Voltage
120 - 240V AC; +10%
Frequency
50/60 Hz; +1 HZ
Consumption Electric Power
150 VA
Size
Dimensions (W x H x D)
370 x 85 x 455 mm
Weight
8.8 kg
Video Signals
Video Format
NTSC, YPbPr & RGB
SDTV Signal Output
VBS Composite, Y/C, HD-SDI, DVI, RGBs
Observation
Narrow Band Imaging
When the light source (CLV-S190, CLVS40Pro, CLV-180) is connected to this instrument, Narrow Band Imaging (NBI) is available for use with compatible cameras and Videoscopes
Remote Control
1/8" Stereo Remote Jacks (2), Olympus Monitor Remote
Image Capture
Media
USB Media -- MAJ-1925 (Olympus)
Recording Format
TIFF: no compression, JPEG (1/5): approx 1/5, JPEG (1/10): approx 1/10
Number of Images
TIFF: approx 115, JPEG(1/5): approx 500, JPEG (1/10) approx 1500
Product Specs CLV-S190
Power Supply
Voltage
120-240V AC; +10%
Frequency
50/60Hz; + 3HZ
Consumption Electric Power
500 VA
Size
Dimensions (W x H x D)
370 x 150 x 474 mm (standard)
Weight
14.9 kg
Illumination
Lamp
300 W (Xenon)
Lamp Life
Approx 500 hrs
Ignition
Switching Regulator
Brightness Adjustment
Light-path diaphragm control
Cooling
Forced-air cooling
NBI (Narrow Band Imaging)
Available
Emergency Lamp
Halogen 12 V, 35 W
Ordering Info
Video System and Accessories
OTV-S190
VISERA ELITE HDTV Video Processor
CLV-S190
VISERA ELITE 300W Xenon Light Source
MAJ-1921
VISERA ELITE Keyboard
MAJ-1925
Olympus 2GB USB Portable Memory
MAJ-1957
VISERA ELITE Monitor/Printer Remote Cable
MAJ-438
Remote Accessory Cable
Compatible Ancillary Devices
IMH-20
HD Video Recorder, Dual Channel, 500GB, Touch Screen
IMH-10
HD Video Recorder, Single Channel, 320GB
OEP-5
HD Medical-Grade Color Video Printer
K10021612
WM-P2 Series Surgical Workstation w/Arm & Keyboard Tray
Compatible Videoscopes & Cameras
CYF-VH
HD Flexible Cysto-Nephro-Videoscope
CYF-VHA
HD Flexible Cysto-Nephro-Videoscope with suction valve
CYF-VHR
HD Flexible Cysto-Nephro-Videoscope with reverse angulation
CYF-V2
Standard Definition Flexible Cysto-Nephro-Videoscope
URF-V
Flexible Uretero-Reno Videoscope
OTV-S7ProH-HD-L08E
HD Urology Lightweight Camera Head, 0.8 Zoom, Right Angle w/NBI
OTV-S7H-1D-L08E
SD Urology Lightweight Camera Head, 0.8 Zoom, Right Angle
OTV-S7ProH-HD-10E
HD Autoclavable Camera Head, 1.0x Zoom
OTV-S7ProH-HD-12E
HD Autoclavable Camera Head, 1.2x Zoom