ENDOEYE HD II Rigid Videoscope (WA50040A / WA50042A)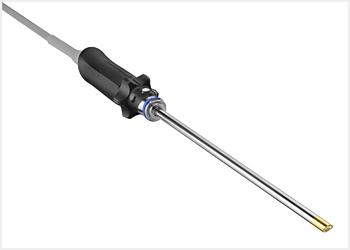 Telescope
10mm
ENDOEYE HD II Rigid Videoscope (WA50040A / WA50042A)
The 10 mm Olympus ENDOEYE HD II Rigid Videoscope features chip-on-the-tip technology to offer HD image quality as never seen before, providing natural color reproduction, exceptional illumination, and maximum contrast. An advanced optical design enables focus-free functionality and provides greater depth of field, while the fog-free feature ensures clear views throughout the procedure. ENDOEYE delivers unrivaled efficiency in an all-in-one ergonomic design along with full autoclavability for state-of-the-art reprocessing compatibility.
---
Key Benefits
Chip-on-the-tip design: An advanced chip-on-the-tip design delivers bright, clear images.
Fog-free functionality: A fog-free feature provides clear views throughout the procedure. 
Focus-free capabilities: An advanced optical design provides greater depth of field, eliminating the need for manual focusing and delivering a consistently excellent image with a sharp center and a sharp periphery in a 16:9 wide-screen format.
Full autoclavability: ENDOEYE rigid videoscopes are fully autoclavable for state-of-the-art reprocessing compatibility.
Narrow Band Imaging (NBI): Proprietary NBI technology provides optical image enhancement that improves visualization of vessels and other tissues on the mucosal surface.
Product Support
Field of View: 90°
Direction of View: 0°, 30° (WA50040A, WA50042A)
Depth of Field: 21 - 200 mm
Distal End Outer Diameter: 10.0 mm
Working Length: 325 mm / 330 mm (WA50040A, WA50042A)
Remote Control: 3 buttons on handle
Special Light Observation: NBI
Fog-Free Function: Yes
Reprocessing: Autoclavable, ETO, STERRAD, washer disinfector
Olympus® Service & Repair
Olympus offers a broad range of services to healthcare professionals and to our customers, including contact hour and peer-based training courses; information, training tools and videos on infection control and reprocessing; authorized repair services and support on Olympus equipment; and financing solutions to help your facility with acquisition of new capital equipment, accessories, and maintenance plans.
Need Help?
Cleaning, Disinfection & Sterilization
The proper cleaning, disinfection, and sterilization of Olympus equipment is equally as important as their proper use.
Olympus Training & Proper Use
Olympus Continuum, is a comprehensive platform of education and training experiences led by healthcare experts from around the world. Learning opportunities include hands-on courses, online learning, lectures and workshops, peer-to-peer training, accredited continuing education, and on-demand learning.
For more information: Olympus Continuum Video