Stone Retrieval Baskets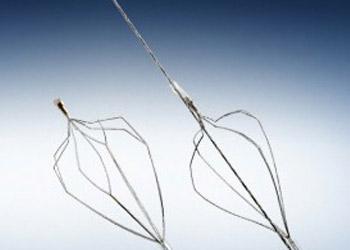 Basket
Stone Retrieval Baskets
Single-use Olympus Stone Retrieval Baskets are designed for use with the innovative V-System. Basket families include the four-wire TetraCatchV, for versatile stone retrieval in the bile and pancreatic ducts, and the FlowerBasketV, for the capture of small and large stones with eight wires at the distal end, and four wires at the proximal end. Both basket families are available in wire-guided and rotatable basket designs for optimal stone capture and are compatible with the Olympus Emergency Mechanical Lithotriptor Handle (BML-610A).
---
Key Benefits
Smooth operation: New siliconized basket wires help open and close basket for smooth capture and release of stones
Two designs: Choice of wire-guided or rotatable basket for optimal stone capture, even in intrahepatic ducts.
V-System control: Integrated V-Markings indicate when to raise and lower the V-Grove elevator, and the C-Hook features allows optimal control.
Product Support
Olympus V-System TetraCatchV and FlowerBasketV Stone Retrieval Baskets are available in a variety of designs, including wire-guided and rotatable designs at various opening widths and minimum channel sizes. 
For detailed specifications, please contact customer service for assistance.
Olympus Training & Proper Use
Olympus offers a variety of educational opportunities for medical and surgical healthcare professionals. 
Peer-To-Peer Training
Our Professional Education Program provides multiple types of peer-to-peer training in order to meet the specific educational needs of physicians and nurses focused on the safe and effective use of Olympus products.
Olympus University
Olympus Professional Education also offers training programs through Olympus University (OU). Geared toward nurses, reprocessing technicians and biomeds, many of the OU courses are available for nursing contact hour continuing education credit.
Visit Olympus University
---