Spiration Valve System for Postoperative Prolonged Air Leaks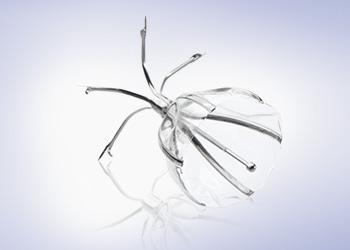 Endobronchial Valve Therapy
Spiration Valve System for Postoperative Prolonged Air Leaks
Postoperative air leaks continue to be the most common complication following surgical resection of the lung and a leading cause of increased hospitalization, morbidity and cost. Traditional management of prolonged leaks involves chest drainage and observation followed by more invasive treatments when leaks do not resolve.1,2,3 Traditional "wait and see" approaches can lead to increased length of stay (LOS) and frustration for both the provider and patient.1,2 The Spiration Valve System is a minimally invasive procedure that provides surgeons and pulmonologists a novel method for limiting distal airflow to damaged lung. It is a proactive option in the management of prolonged air leaks.4,5
For more information, click here.
---
Key Benefits
The Spiration Valve is an umbrella-shaped, one-way valve that is placed via a delivery catheter, introduced through the working channel of a flexible bronchoscope. The valve consists of a nitinol frame covered with a polymer membrane and five anchors that securely engage the airway walls at the targeted treatment location. Once in place, the Spiration Valve limits airflow to damaged tissue while allowing trapped air and fluid to escape. A reduction in air flow to damaged lung has been shown to accelerate resolution of an air leak. Because air leaks are transient in nature, the Spiration Valve was designed to be removed upon resolution of the leak.

PRESCRIPTIVE INFORMATION
Caution: Humanitarian Device. Authorized by Federal law for use in the control of prolonged air leaks of the lung, or significant air leaks that are likely to become prolonged air leaks, following lobectomy, segmentectomy, or Lung Volume Reduction Surgery (LVRS). The effectiveness of this device for this use has not been demonstrated. Federal Law restricts this device to sale by or on the order of a physician.
Indication for Use
The Spiration Valve System is a device to control prolonged air leaks of the lung, or significant air leaks that are likely to become prolonged air leaks following lobectomy, segmentectomy, or Lung Volume Reduction Surgery (LVRS). An air leak present on post-operative day 7 is considered prolonged unless present only during forced exhalation or cough. An air leak present on day 5 should be considered for treatment if it is:
Continuous,
Present during normal inhalation phase of inspiration, or
Present upon normal expiration and accompanied by subcutaneous emphysema or respiratory compromise. Spiration Valve System use is limited to 6 weeks per prolonged air leak.
Contraindications
Patient is unable to tolerate a flexible bronchoscopy procedure.
Patient is allergic to latex.
Patients with known or suspected sensitivity or allergy to nickel.
General Warnings and Precautions
Atelectasis may occur after the air leak seals; patients should be monitored for this possible complication.
Use of the catheter requires bronchoscopy technical skills and adequate training. The operator must be a physician or medical personnel under the supervision of a physician and be trained in clinical bronchoscopy techniques and the use of the Spiration Valve System. The following instructions will give technical guidelines but do not obviate formal training in bronchoscopic procedures.
The Spiration Valve System should not be used for patients who have active asthma, bronchitis or clinically significant bronchiectasis.
Only use a bronchoscope with an instrument channel inner diameter of 2.6mm or larger.
Valve placement should be done only after air leak isolation and airway sizing with the calibrated balloon catheter.
Valve placement and removal must be done under bronchoscopic observation with visualization of the target airway.
Do not allow lubricants to contact the catheter, loader, or valve.
Once a valve has been loaded and/or deployed, do not attempt to reuse or re-deploy the valve.
The valve is not designed to be repositioned after it is deployed from the catheter. If the position of the deployed valve is not optimal or appropriate; the valve should be removed and discarded.
Do not remove the valve from the cartridge.
Do not use the Spiration Valve System for other than its intended use.
Do not reuse the catheter and loader for more than one patient procedure. The catheter and loader are not designed to be recleaned, reprocessed, or re-sterilized.
Do not deploy more than 10 valves using the catheter and loader. If more than 10 valve deployments are needed, a new catheter and loader must be opened and used.