QuadPort+ (WA58030Q)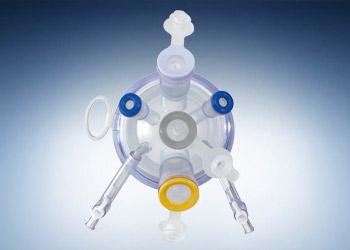 Single Port Surgery Access Devices
QuadPort+ (WA58030Q)
The Olympus QuadPort+ is a minimally invasive, multi-instrument access device designed to facilitate laparo-endoscopic single site (LESS) surgery such as LESS colorectal surgery or LESS nephrectomy via a single incision in the umbilicus. The QuadPort+ contains five instrument ports and two insufflation valves to support a range of five-instrument surgical procedures and those that require removal of larger tissue specimens.
---
Key Benefits
Easy insertion and removal: The introducer tool is designed with a blunt tip allowing safe and easy introduction into the abdominal cavity through a single incision as small as 2.0 cm. The retraction sleeve provides wound protection and helps streamline specimen removal. It is self-adjusting to different incision lengths and accommodates abdominal wall thickness up to 10 cm.
Flexible instrument ports: The flexible ports enhance access to the surgical site and accommodate different types and sizes of laparoscopic instruments, including straight, curved, and articulating instruments. Duckbill/lipseal valves allow for easy introduction and removal of instruments while maintaining pneumoperitoneum.
Enhanced ports and smoke venting: The low intra-abdominal profile of the port and smoke-venting capability offer excellent visibility. The insufflation connector with stopcocks allows an easy attachment and the control of smoke evaluation.
---
Product Support
Instrument Ports: Five instrument ports (two at 5 mm; one at 10 mm, reducible to 5 mm; 1 at 12 mm, reducible to 5 mm; and 1 at 15 mm, reducible to 5 mm) enable standard five-instrument single-incision surgeries.
Gas-Tight Valves: The instrument ports are fitted with extra-tight, duckbill valves to maintain pneumoperitoneum during the procedure; two insufflation/venting valves allow inflation of abdominal cavity and smoke evacuation.
Internal Anchoring Ring: The internal anchoring ring stays flush against the abdominal wall for rapid visual access.
Removable Boot:  The top of the device can be easily removed for specimen retrieval and replaced to complete the procedure.
Removal Ribbon: A removal ribbon enables easy device removal.
Compatibility: The QuadPort+ is compatible with HiQ LS Hand Instuments specifically designed for LESS surgery as well as other curved, bent, or articulating hand instruments.
Olympus Training & Proper Use
Olympus Continuum, is a comprehensive platform of education and training experiences led by healthcare experts from around the world. Learning opportunities include hands-on courses, online learning, lectures and workshops, peer-to-peer training, accredited continuing education, and on-demand learning.
For more information: Olympus Continuum Video