OES ELITE 4mm HD Telescope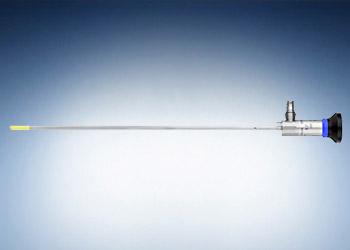 Telescope
OES ELITE 4mm HD Telescope
Olympus is the first in the market to introduce Extra Low Dispersion (ED) Glass 4 mm telescopes in rigid surgical endoscopy. The OES ELITE 4 mm HD Telescopes are designed with extra-low dispersion (ED) glass, which in turn minimizes chromatic aberration. When used with NBI, images appear rich in contrast in all directions of view: 0º, 12º, 30º, 30° wide angle and 70º. State-of-the-art HD technology demonstrates increased depth of sharpness and excellent image resolution. 
---
Key Benefits
New advanced optical design is compatible with HD camera heads

OES Elite telescopes provide enhanced contrast with Narrow Band Imaging (NBI®); NBI enables effective targeting of biopsies not seen under white light

Protective tubing is specifically designed to prevent any damage to telescope during transport and reprocessing

Full compatibility with OES Pro System

Color coding and HD marking allows for clear product identification and compatibility
Product Support
Product Ordering Information
WA2T400A     OES Elite Telescope, 4mm, 0° HD, autoclavable
WA2T412A     OES Elite Telescope, 4mm, 12° HD, autoclavable
WA2T430A     OES Elite Telescope, 4mm, 30° HD, autoclavable
WA2T470A     OES Elite Telescope, 4mm, 70° HD, autoclavable
WA2T43WA    OES Elite Telescope, 4mm, 30° wide-angle HD, autoclavable
WA2P400A     Protective Tube 
Olympus® Service & Repair
Olympus offers a broad range of services to healthcare professionals and to our customers, including contact hour and peer-based training courses; information, training tools and videos on infection control and reprocessing; authorized repair services and support on Olympus equipment; and financing solutions to help your facility with acquisition of new capital equipment, accessories, and maintenance plans.
Need Help?
Cleaning, Disinfection & Sterilization
The proper cleaning, disinfection, and sterilization of Olympus equipment is equally as important as their proper use.
Olympus Training & Proper Use
Olympus Continuum, is a comprehensive platform of education and training experiences led by healthcare experts from around the world. Learning opportunities include hands-on courses, online learning, lectures and workshops, peer-to-peer training, accredited continuing education, and on-demand learning.
For more information: Olympus Continuum Video