SmoothShot TBNA - Single Use (NA-401D-1321)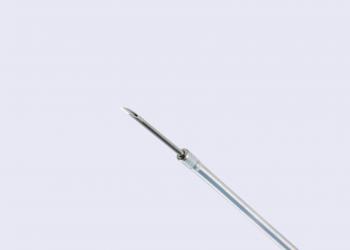 Needles
TBNA Needles
SmoothShot TBNA - Single Use (NA-401D-1321)
The single-use Olympus NA-401D-1321 SmoothShot Aspiration Needle is a 21-gauge, 13 mm length needle with a 115 cm working length.
---
Key Benefits
Smooth needle movement: The needle's sophisticated design delivers smooth transbronchial needle aspiration and puncture performance, and the shorter, ridged distal portion of the needle allows smooth movement, even when the scope is angulated.
Endoscope compatibility: Superb endoscope compatibility and a unique stainless steel sheath protect the biopsy channel during insertion.
Product Support
Olympus Training & Proper Use
Olympus Continuum, is a comprehensive platform of education and training experiences led by healthcare experts from around the world. Learning opportunities include hands-on courses, online learning, lectures and workshops, peer-to-peer training, accredited continuing education, and on-demand learning.
For more information: Olympus Continuum Video