Rhino-laryngofiberscope Olympus ENF-XP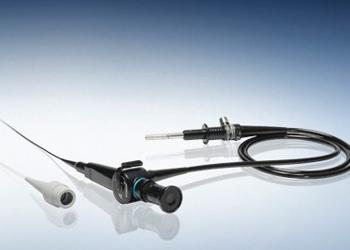 Laryngoscope
Fiberscope
Rhino-laryngofiberscope Olympus ENF-XP
The Olympus ENF-XP fiber rhinolaryngoscope features an ultra-slim insertion tube diameter and generous 130° angulation range (up and down). Its slim design and brightness make the ENF-XP suitable for observing narrow upper airway passages.
---
Key Benefits
Easy insertion: An ultra-slim 2.2 mm diameter is suitable for the observation of smaller nasal cavities.
Easy maneuverability: With an angulation range of 130° both up and down, the ENF-XP allows for easy scope maneuverability.
Improper use of scope may result in patient injury, bleeding, and/or perforation. For complete indications, contraindications, warnings, and cautions, please reference full Instructions for Use (IFU) that accompanied your product.
Product Support
Olympus® Service & Repair
Olympus offers a broad range of services to healthcare professionals and to our customers, including contact hour and peer-based training courses; information, training tools and videos on infection control and reprocessing; authorized repair services and support on Olympus equipment; and financing solutions to help your facility with acquisition of new capital equipment, accessories, and maintenance plans.
Need Help?
Cleaning, Disinfection & Sterilization
The proper cleaning, disinfection, and sterilization of Olympus equipment is equally as important as their proper use.
Olympus Training & Proper Use
Olympus Continuum, is a comprehensive platform of education and training experiences led by healthcare experts from around the world. Learning opportunities include hands-on courses, online learning, lectures and workshops, peer-to-peer training, accredited continuing education, and on-demand learning.
For more information: Olympus Continuum Video