Articulating-Tip ENDOEYE FLEX (LTF-VH)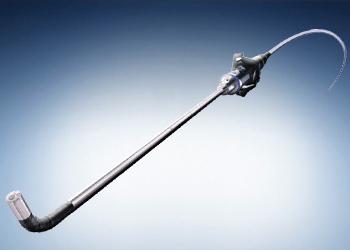 Laparoscopes
Articulating HD Videoscope
Articulating-Tip ENDOEYE FLEX (LTF-VH)
The articulating-tip ENDOEYE FLEX videoscope makes Single Site (LESS) surgery possible, thanks to an articulating tip providing a larger field of view up to 100 degrees in all four directions. The distally mounted CCD delivers brighter images and excellent color reproduction and the focus-free optical design provides greater depth of field, eliminating the need for manual focusing.
---
Key Benefits
Advanced flexibility: The laparoscope's angulation control allows smooth articulation in four directions for a complete 100 degree field of view.
Superior Imaging: The distally mounted CCD delivers a consistently brighter image with excellent color reproduction, larger depth of field, and focus-free operation.
All-in-one design: An all-in-one design integrates the light cable and camera system into the laparoscope for improved ergonomics and easier setup.
Product Support
Olympus® Service & Repair
Olympus offers a broad range of services to healthcare professionals and to our customers, including contact hour and peer-based training courses; information, training tools and videos on infection control and reprocessing; authorized repair services and support on Olympus equipment; and financing solutions to help your facility with acquisition of new capital equipment, accessories, and maintenance plans.
Need Help?
Cleaning, Disinfection & Sterilization
The proper cleaning, disinfection, and sterilization of Olympus equipment is equally as important as their proper use.
Olympus Training & Proper Use
Olympus Continuum, is a comprehensive platform of education and training experiences led by healthcare experts from around the world. Learning opportunities include hands-on courses, online learning, lectures and workshops, peer-to-peer training, accredited continuing education, and on-demand learning.
For more information: Olympus Continuum Video