Articulating-Tip ENDOEYE FLEX (LTF-VH)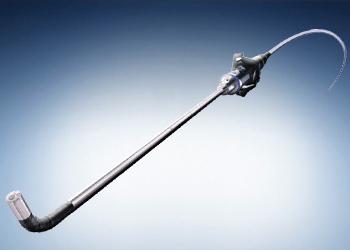 Laparoscopes
Articulating HD Videoscope
Articulating-Tip ENDOEYE FLEX (LTF-VH)
The articulating-tip ENDOEYE FLEX videoscope makes Single Site (LESS) surgery possible, thanks to an articulating tip providing a larger field of view up to 100 degrees in all four directions. The distally mounted CCD delivers brighter images and excellent color reproduction and the focus-free optical design provides greater depth of field, eliminating the need for manual focusing.
---
Key Benefits
Advanced flexibility: The laparoscope's angulation control allows smooth articulation in four directions for a complete 100 degree field of view.
Superior Imaging: The distally mounted CCD delivers a consistently brighter image with excellent color reproduction, larger depth of field, and focus-free operation.
All-in-one design: An all-in-one design integrates the light cable and camera system into the laparoscope for improved ergonomics and easier setup.
Product Support
Olympus Service & Repair
Olympus offers a broad range of services to healthcare professionals and to our customers, including contact hour and peer-based training courses; information, training tools and videos on infection control and reprocessing; authorized repair services and support on Olympus equipment; and financing solutions to help your facility with acquisition of new capital equipment, accessories, and maintenance plans.
Need Help?
Cleaning, Disinfection & Sterilization
The proper cleaning, disinfection, and sterilization of Olympus equipment is equally as important as their proper use. 
Olympus Training & Proper Use
Olympus offers a variety of educational opportunities for medical and surgical healthcare professionals. 
Peer-To-Peer Training
Our Professional Education Program provides multiple types of peer-to-peer training in order to meet the specific educational needs of physicians and nurses focused on the safe and effective use of Olympus products.
Olympus University
Olympus Professional Education also offers training programs through Olympus University (OU). Geared toward nurses, reprocessing technicians and biomeds, many of the OU courses are available for nursing contact hour continuing education credit.
Visit Olympus University