HD Autoclavable Camera Head (OTV-S7PROH-HD-10E/Q)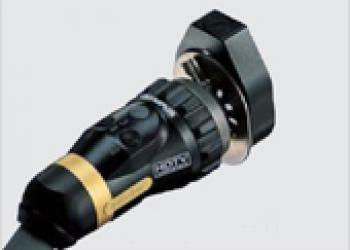 Camera Head
HD Camera Head
HD Autoclavable Camera Head (OTV-S7PROH-HD-10E/Q)
Olympus OTV-S7PROH-HD-10E/Q HD Autoclavable Camera Heads with 1 times magnification feature 1080 effective scan lines with one touch zoom and remote control capabilities. The image can be enlarged up to 1.5 times the original size and HD image quality is maintained even in the zoom mode. On the camera head control section, there are three switches that can be programmed with frequently used functions. The camera heads are available with an eye-piece or quick-lock connection to lock onto a full line of autoclavable telescopes.
---
Key Benefits
High resolution images: With 1080i HD output, the camera head provides high-resolution images for incredibly sharp, accurate imaging.
Full autoclavability:

The camera head is tightly sealed, preventing lens fogging even after autoclave steam sterilization reprocessing.

Programmable buttons:

The control section has three built-in switches, allowing programming of frequently used functions, such as electronic zoom and image capture for convenient remote control.

One touch zoom:

The image can be enlarged to 1.2 or 1.5 times the original size, and high-definition, large images are maintained even in zoom mode.

Quick-lock connection:

Q models feature a quick-lock connection, allowing the camera head to be snap locked onto the telescope  to ensure a tight fit.
Product Support
Size:
Camera Head: 35 x 124 mm (focus rings x total length)
Cable: 6.8 mm x 4 m
Eyepiece:
10E: 1.0x eyepiece type
10Q: 1.0x quick-lock type
Observation:
Pickup System: Interline type CCD solid-state image pickup
Magnification Ratio: Focal distance f = 15.8 – 31.3 mm
C/D/S: 
Cleaning/Disinfection: Immersible in disinfectant solution.
Sterilization: Ethylene oxide gas sterilization and steam (autoclavable) sterilization possible
Classification (Electromagnetic Equipment): 
Degree of Protection Against Electric Shock: Type CF
Degree of Protection Against Explosion: Product should be kept away from flammable gases
Olympus® Service & Repair
Olympus offers a broad range of services to healthcare professionals and to our customers, including contact hour and peer-based training courses; information, training tools and videos on infection control and reprocessing; authorized repair services and support on Olympus equipment; and financing solutions to help your facility with acquisition of new capital equipment, accessories, and maintenance plans.
Need Help?
Cleaning, Disinfection & Sterilization
The proper cleaning, disinfection, and sterilization of Olympus equipment is equally as important as their proper use.
Olympus Training & Proper Use
Olympus Continuum, is a comprehensive platform of education and training experiences led by healthcare experts from around the world. Learning opportunities include hands-on courses, online learning, lectures and workshops, peer-to-peer training, accredited continuing education, and on-demand learning.
For more information: Olympus Continuum Video