HANAROSTENT® Esophagus Through-the-Scope (TTS)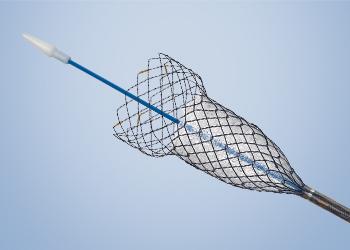 Metal Stent
HANAROSTENT® Esophagus Through-the-Scope (TTS)
Olympus offers a lineup of self-expanding metal stents to help achieve luminal patency in a variety of clinical applications. With a unique braiding design, the HANAROSTENT® provides an ideal balance of radial and axial force, allowing for the flexibility to conform to a patient's anatomy and precisely target their stricture. 
Unlike over-the-wire esophageal stents, the 10.5F HANAROSTENT Esophagus TTS allows for accurate and easy esophageal stenting under direct scope endoscopic visualization. 
HANAROSTENT® Esophagus TTS is offered in fully covered (ECBA series) or partially covered (EPBA) stent options.
Through-the-scope delivery system is compatible with a 0.035" or 0.038" guidewire.
Indications
The HANAROSTENT® Esophagus TTS (CCC) and HANAROSTENT® Esophagus TTS (NCN) are intended for maintaining esophageal luminal patency in esophageal luminal patency in esophageal strictures caused by intrinsic and/or extrinsic malignant tumors and occlusion of concurrent esophageal fistulas.
Contraindications
Strictures that cannot be dilated enough to pass the delivery device
Chronically bleeding tumors if bleeding is active at the time of placement
Patients for whom the endoscopic treatments are contraindicated
Multiple sites of obstruction
Standard endoscopy contraindications
Strictures caused by benign tumors
Strictures that do not allow passage of a guidewire
Any use other than those mentioned in the IFU (Instructions for Use) 
---
Key Benefits
Unique Wire Structure - Hook-cross nitinol design provides optimal radial and axial force aimed to minimize the impact of retrosternal pressure.
Anti-Migration - Defined dumbbell heads on both ends designed to assist with anti-migration, as well as a proximal lasso to help with re-positioning.
Direct Visualization - 10.5F catheter to allow for through-the-scope visibility to aid in positioning and deployment.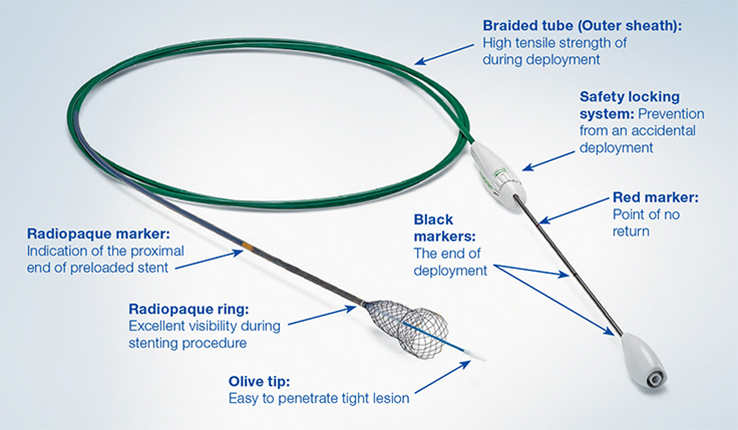 Product Support
---