Foreign Body Retrieval Devices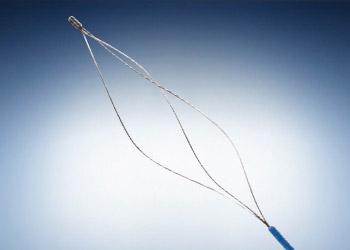 Grasper
Foreign Body Retrieval Devices
Olympus offers an extensive line of Olympus foreign body retrieval devices for virtually every clinical situation. The full array of Olympus grasping baskets and forceps are available in a wide range of designs and sizes.
---
Key Benefits
Alligator Jaw forceps for small objects
Rubber Tip forceps for sharp objects
Shark Tooth grasping jaws for flat objects
V-Shape forceps with two flat arms for flat objects
Retrieval baskets for round, slippery objects
Rat Tooth grasping forceps for soft or flat objects
Rat Tooth Alligator Jaw forceps offering a rotatable design for small, soft, or flat objects
Tripod forceps with wide opening prongs and ring distal tips for grasping
Product Support
| | | |
| --- | --- | --- |
| Clinical Applications | Product Codes |   |
| Soft or Flat Objects | FG-54D | 1.2 mm |
| Round, Slippery Objects | FG-51D, FG-52D | 1.2 mm |
| Sharp or Flat Objects (nails, needles, pins, and blades) | FG-20P-1 | 2.0 mm |
| Flat Objects (coins, dentures, and jewelry) | FG-32C-1, FG-26C-1 | 2.6 mm - 2.8 mm |
| Flat Arm Forceps for Flat Objects | FG-25C-1 | 2.6 mm  |
Olympus Training & Proper Use
Olympus Continuum, is a comprehensive platform of education and training experiences led by healthcare experts from around the world. Learning opportunities include hands-on courses, online learning, lectures and workshops, peer-to-peer training, accredited continuing education, and on-demand learning.
For more information: Olympus Continuum Video