V-Shape (FG-25C-1)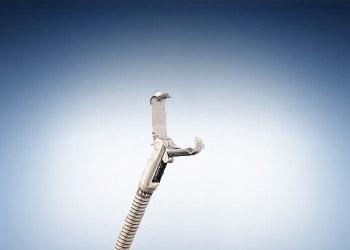 Forceps
Grasping Forceps / Retrieval Baskets
V-Shape (FG-25C-1)
The reusable Olympus V-Shape grasping forceps are designed to deliver secure grasping during operation as well as fine tissue manipulation. They are ideal for retrieval of foreign objects such as coins.
Product Support
MODEL FG-25C-1
Working Length: 105 cm
Opening Width: 13.0 mm
Minimum Channel Size: 2.6 mm
Compatible Scopes: BF
Package: 1 per box
Use: Reusable, autoclavable
For detailed specifications, view the Endoscopic Devices Product Catalog or please contact customer service for assistance.
Olympus® Service & Repair
Olympus offers a broad range of services to healthcare professionals and to our customers, including contact hour and peer-based training courses; information, training tools and videos on infection control and reprocessing; authorized repair services and support on Olympus equipment; and financing solutions to help your facility with acquisition of new capital equipment, accessories, and maintenance plans.
Need Help?
Cleaning, Disinfection & Sterilization
The proper cleaning, disinfection, and sterilization of Olympus equipment is equally as important as their proper use.
Olympus Training & Proper Use
Olympus Continuum, is a comprehensive platform of education and training experiences led by healthcare experts from around the world. Learning opportunities include hands-on courses, online learning, lectures and workshops, peer-to-peer training, accredited continuing education, and on-demand learning.
For more information: Olympus Continuum Video
---