Alligator Jaw (FB-15C-1)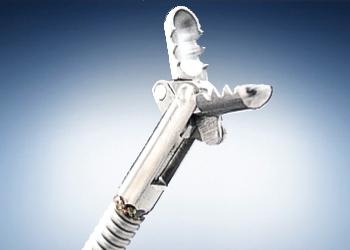 Forceps
Biopsy Forceps Lung
Alligator Jaw (FB-15C-1)
The reusable Alligator Jaw (FB-15C-1) biopsy forceps has a 5.5 mm cup opening and a 105 cm working length. It is suitable for 2.0 mm scope channels.
---
Key Benefits
Proprietary sheath design: The sheath's exterior reduces surface friction, enabling smooth insertion through the endoscope channel. Its flexible design allows for easier passage through an angled endoscope without using excessive force.
Stainless steel construction: Forceps are constructed of stainless steel, the material of choice for precision medical devices.
Broad array of specialty forceps: Olympus offers a wide range of single-use and reusable biopsy forceps, designed to meet procedural needs across multiple specialties. For more information about Olympus biopsy forceps or other endoscopic devices, please contact customer service for assistance.
Product Support
Olympus Service & Repair
Olympus offers a broad range of services to healthcare professionals and to our customers, including contact hour and peer-based training courses; information, training tools and videos on infection control and reprocessing; authorized repair services and support on Olympus equipment; and financing solutions to help your facility with acquisition of new capital equipment, accessories, and maintenance plans.
Need Help?
Cleaning, Disinfection & Sterilization
The proper cleaning, disinfection, and sterilization of Olympus equipment is equally as important as their proper use. 
Olympus Training & Proper Use
Olympus offers a variety of educational opportunities for medical and surgical healthcare professionals. 
Peer-To-Peer Training
Our Professional Education Program provides multiple types of peer-to-peer training in order to meet the specific educational needs of physicians and nurses focused on the safe and effective use of Olympus products.
Olympus University
Olympus Professional Education also offers training programs through Olympus University (OU). Geared toward nurses, reprocessing technicians and biomeds, many of the OU courses are available for nursing contact hour continuing education credit.
Visit Olympus University