Flexible Ureteroscopes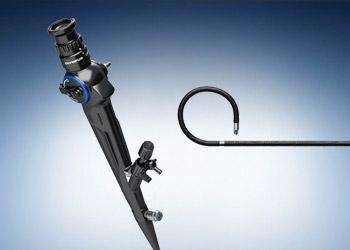 Ureteroscope
Flexible Fiberoptic Ureteroscope
Flexible Ureteroscopes
Olympus Flexible Fiberoptic Ureteroscopes represent the next evolution in flexible fiberoptic ureteroscopy. Olympus fiberoptic ureteroscopes feature exceptional image quality and improved durability for compatibility with popular sterilization methods such as Sterrad NX. 
---
Key Benefits
Improved image quality: Olympus fiberoptics provide crystal clear imaging.
Enhanced deflection durability: Olympus bending section provide maximum flexibility and durability using passive bending technology that prevents damage while allowing enabling new access to formerly unreachable areas of the kidney.
Superior durability: Olympus fiberoptic scopes are designed with durability in mind so that they can withstand the rigors of reprocessing in hydrogen peroxide sterilizers such as Sterrad NX.
---
Product Support
The Olympus family includes the durable URF-video ureteroscope V and the super-slim URF-P6 fiberoptic ureteroscope. For detailed specifications on these ureteroscopes or the Olympus lineup of urology telescopes, cystoscopes, resectoscope, and nephroscopes, please contact customer service for assistance.
Olympus® Service & Repair
Olympus offers a broad range of services to healthcare professionals and to our customers, including contact hour and peer-based training courses; information, training tools and videos on infection control and reprocessing; authorized repair services and support on Olympus equipment; and financing solutions to help your facility with acquisition of new capital equipment, accessories, and maintenance plans.
Need Help?
Cleaning, Disinfection & Sterilization
The proper cleaning, disinfection, and sterilization of Olympus equipment is equally as important as their proper use.
Olympus Training & Proper Use
Olympus Continuum, is a comprehensive platform of education and training experiences led by healthcare experts from around the world. Learning opportunities include hands-on courses, online learning, lectures and workshops, peer-to-peer training, accredited continuing education, and on-demand learning.
For more information: Olympus Continuum Video