EZDilate™ Endoscopic Balloon Dilator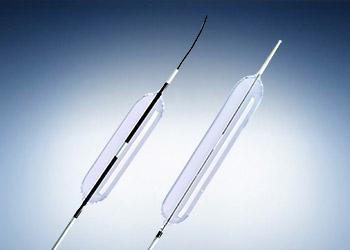 Balloons
EZDilate™ Endoscopic Balloon Dilator
Not all balloons are created equal.
The EZDilate multi-stage endoscopic balloon dilator offers enhanced precision and control through all phases of an endoscopic balloon dilation with efficient navigation through difficult anatomy, easier placement and positioning within the stricture and accurate achievement of target diameters.
---
Key Benefits
Efficient Navigation: A softer atraumatic tip* and low-profile balloon catheter are designed for efficient insertion and navigation to the stricture while protecting sensitive anatomy.
Precise Placement: The unique center visual marker facilitates precise placement, positioning accuracy and assessment of the stricture during dilation. Rounded balloon shoulders and ultra-clear material enable enhanced visualization of the stricture during dilation.**
Accurate Inflation: The balloon is engineered to provide superior diameter accuracy and precision without the need to overinflate to reach the target specification. New sizing, offered only by Olympus, provides inflation at half millimeter intervals for more controlled, gradual dilation.
*Wire-guided version only.
**There is no natural rubber latex used in the EZDilate Multi-Stage Balloon Dilator or its packaging
Product Support
EZDilate comes in both fixed-wire and wire-guided versions. The fixed-wire balloons are indicated for use in the esophagus and the wire-guided balloons are indicated for use in the esophagus, pylorus, papilla and colon.
EZDilate can offer inflation diameters from 6.0 mm to 20.0 mm while each EZDilate balloon inflates to three distinct diameters.
The EZDilate is compatible with any 60cc inflation device, but may be purchased with the Olympus MAJ-1740 syringe style inflation device.
For detailed specifications, please contact customer service for assistance.
Olympus® Service & Repair
Olympus offers a broad range of services to healthcare professionals and to our customers, including contact hour and peer-based training courses; information, training tools and videos on infection control and reprocessing; authorized repair services and support on Olympus equipment; and financing solutions to help your facility with acquisition of new capital equipment, accessories, and maintenance plans.
Need Help?
Cleaning, Disinfection & Sterilization
The proper cleaning, disinfection, and sterilization of Olympus equipment is equally as important as their proper use.
Olympus Training & Proper Use
Olympus Continuum, is a comprehensive platform of education and training experiences led by healthcare experts from around the world. Learning opportunities include hands-on courses, online learning, lectures and workshops, peer-to-peer training, accredited continuing education, and on-demand learning.
For more information: Olympus Continuum Video