PK SuperPulse (744000)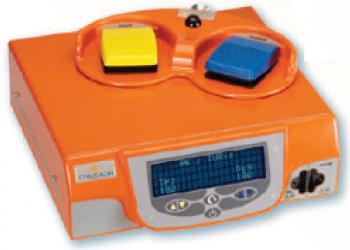 Energy
RF Energy
PK SuperPulse (744000)
The Olympus PK SuperPulse Technology Workstation economically improves surgeon efficiency by powering a variety of devices that cut, coagulate, and seal tissue, minimizing blood loss and shortening procedure times. PK Technology provides unique, pulsed, low-voltage RF energy to resect rapidly at low temperatures. PK Technology also combines the safety of saline with "seal-as-you-cut" tissue resection and vaporization for safer, faster treatment of BPH and bladder tumors.
---
Key Benefits
Excellent hemostasis with no risk of hyponatremia
Reduced risk of obturator nerve stimulation
Precise tissue removal for TURP and bladder neck incisions
Shorter catherization time ideal for day care or outpatient surgery
Minimal thermal spread virtually eliminates charring and reduces complications associated with deep-tissue desiccation
---
Product Support
Olympus® Service & Repair
Olympus offers a broad range of services to healthcare professionals and to our customers, including contact hour and peer-based training courses; information, training tools and videos on infection control and reprocessing; authorized repair services and support on Olympus equipment; and financing solutions to help your facility with acquisition of new capital equipment, accessories, and maintenance plans.
Need Help?
Cleaning, Disinfection & Sterilization
The proper cleaning, disinfection, and sterilization of Olympus equipment is equally as important as their proper use.
Olympus Training & Proper Use
Olympus Continuum, is a comprehensive platform of education and training experiences led by healthcare experts from around the world. Learning opportunities include hands-on courses, online learning, lectures and workshops, peer-to-peer training, accredited continuing education, and on-demand learning.
For more information: Olympus Continuum Video