DISTEN-U-FLO™ Fluid Management System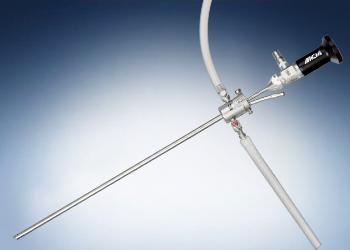 Fluid Management
DISTEN-U-FLO™ Fluid Management System
The DISTEN-U-FLO™ Fluid Management System, designed in cooperation with renowned gynecologist Philip Brooks, MD, offers a simple approach to office hysteroscopy. The fluid management system, with any hysteroscope - including the SlimLine Operative Hysteroscope, facilitate observing and determining the extent of disease in the uterine cavity. Diagnosis can be made with excellent visual clarity under the most difficult circumstances, such as heavy bleeding. All this, in the convenience and comfort of your office.
---
Key Benefits
Cost effective: Affordable, convenient, and disposable office system.
All-In-One System: Consists of inflow/outflow tubing and collection bag to providing a spill-free environment for quick diagnosis in 3–5 minutes in most situations — even during heavy bleeding. 
Product Support
Choices
GYF-TUB*
DISTEN-U-FLO™ Tubing set, 12/box
GYF-PCH
Fluid pouch, nonsterile, disposable, 12/pkg
*Supplied sterile, single use, disposable
Olympus® Service & Repair
Olympus offers a broad range of services to healthcare professionals and to our customers, including contact hour and peer-based training courses; information, training tools and videos on infection control and reprocessing; authorized repair services and support on Olympus equipment; and financing solutions to help your facility with acquisition of new capital equipment, accessories, and maintenance plans.
Need Help?
Cleaning, Disinfection & Sterilization
The proper cleaning, disinfection, and sterilization of Olympus equipment is equally as important as their proper use.
Olympus Training & Proper Use
Olympus Continuum, is a comprehensive platform of education and training experiences led by healthcare experts from around the world. Learning opportunities include hands-on courses, online learning, lectures and workshops, peer-to-peer training, accredited continuing education, and on-demand learning.
For more information: Olympus Continuum Video