Contained Tissue Extraction System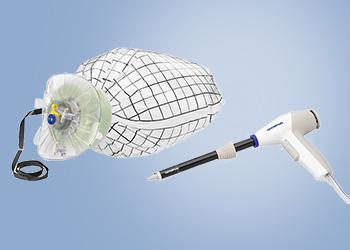 Tissue Management System
Contained Tissue Extraction System
OLYMPUS ANNOUNCES NEW FDA GUIDANCE AND LABELING CHANGES AFFECTING PNEUMOLINER, THE ONLY 510(K)-CLEARED CONTAINMENT DEVICE.
View Press Release
PNEUMOLINER FDA-REQUIRED SURGEON TRAINING:
Contained Tissue Extraction System
The Pneumoliner is the first and only power morcellation containment device specifically designed for intra-abdominal insufflation during GYN procedures.

---
PneumoLiner

Containment Device
PneumoLiner is the first and only power morcellation containment device specifically designed for intra-abdominal insufflation during GYN procedures.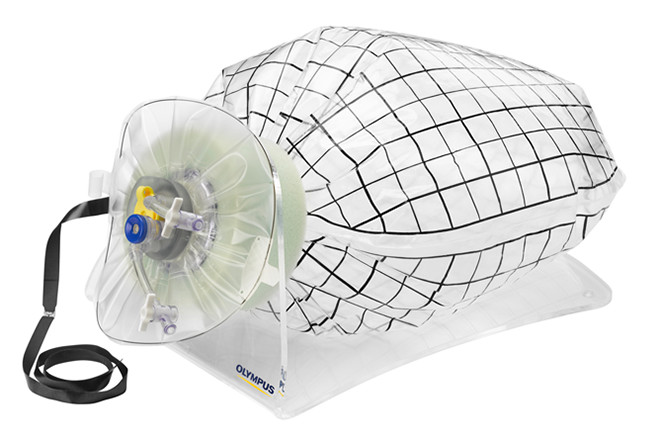 The PneumoLiner is uniquely designed to:
Conform to each patient's abdominal size, avoiding intra-abdominal folding of material which can restrict movement, visualization, or inadvertent capture by the morcellator.
Provide a barrier between target tissue and non-targeted abdominal contents.
Maintain a barrier to the escape of fluids, cells and tissue fragments.
FDA Clearance & Letters:
WARNING: Information regarding the potential risks of a procedure with this device should be shared with patients. Uterine tissue may contain unsuspected cancer. The use of laparoscopic power morcellators during fibroid surgery may spread cancer. The use of this containment system has not been clinically demonstrated to reduce this risk.
CONTRAINDICATIONS: Do not use on tissue that is known or suspected to contain malignancy. Do not use for removal of uterine tissue containing suspected fibroids in patients who are: post-menopausal or over 50 years of age; or candidates for en bloc tissue removal, through the vagina or via a mini-laparotomy incision. Do not use in women with undiagnosed uterine bleeding. Do not use this device on patients with known or suspected allergies to polyurethane. Do not use where the abdominal wall thickness is larger than 10cm. This device should only be used by physicians who have completed the formal validated required training program administered by Olympus and/or Advanced Surgical Concepts.
For more information, please read the full PneumoLiner Instructions for Use for indications, additional contraindications, warnings and precautions.
For additional information, please view the videos below from AAGL 2015.
---
Guardenia™
The Guardenia™ is a new system that is designed to prevent the escape of cells into the abdominal cavity during extracorporeal manual morcellation. It's integrated guard provides protection against inadvertent damage from sharp surgical instruments around the incision.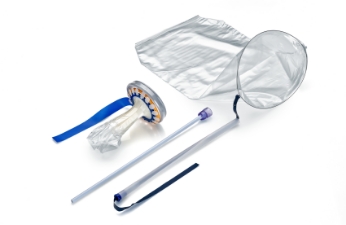 Guardenia allows 50% more space for the same linear incision size as offered by other marketed devices.
Guardenia provides a larger operating space through the incision than the Alexis CES Guard as it encroaches less into the incision.1
Guardenia is securely anchored in the incision and cannot pop out during tissue extraction.
Guardenia provides complete protection of the Bag and the incision over a larger area across all incision sizes (25 mm - 60 mm) and abdomen thicknesses (10 mm - 80 mm).
1. Data on file as of 9/17/21
Supporting materials on file with manufacturer and distributor
---
PATIENT EXPERIENCES
Katie's Story
When a hearing-impaired patient needs surgery, Kate, is the person to translate important information to them via sign language. She loves her work as a medical interpreter so, when uterine fibroids were limiting her ability to be at work, she felt a loss of purpose that her career gave to her.
"There were a good five months when I would have long stretches of such heavy bleeding that I would have to be in the bathroom constantly away from my patients. Most doctors were recommending open surgery with a C-section size incision, because of the size of the fibroids and complexity of the surgery," Katie is 28, and fibroids of this size are rare at her age. After nearly a year of hormone therapy, IUD intervention and scans, Kate decided that a myomectomy (removal of the fibroids) could restore her quality of life, while preserving her potential to have children.
Kate said. "But I've worked in medical translation long enough to know that minimally invasive surgery is usually the better approach."
Kate's uterus was three times its normal size and the fibroids were growing in the uterine wall….one the size of a grapefruit. To perform the surgery in a minimally invasive way, large fibroids would need to be broken up in order to remove the tissue through small incisions.
Utilizing the Olympus contained tissue extraction system, her surgeon felt confident performing the surgery in a minimally invasive way, while removing the tissue safely from her uterus. Although she would require one more surgery due to one complex fibroid on her cervix, Kate was able to be released from the hospital the very same day.
In just five weeks after her procedure, Kate was back to the work she loves. She no longer experiences heavy bleeding, limiting the number of interruptions with those who depend her most at the hospital—her patients. Tough fibroid cases like Katie's often have recurrence, the hope is that she can get obtain relief from her abnormal uterine bleeding for five to seven years and resume her quality of life doing what she loves best – helping others.
Rachel's Story
"Most of us who work in the O.R. know that minimally invasive surgery is better for patients from a safety and recovery perspective," Rachel said. "Minimally invasive approaches have been shown to result in shorter hospital stays, faster healing times, and cosmetic benefits associated with less significant scarring."
However, when procedures and the tools used to perform them come under scrutiny, as did the power morcellator used for the minimally invasive removal of benign uterine fibroids, hospitals and physicians pursue more conservative treatment plans. In this case, erring away from laparoscopic hysterectomy.
The timing of the power morcellation scrutiny was unfortunate for Rachel, who soon after was diagnosed with multiple uterine fibroids stretching her uterus to an uncomfortable size. Despite the FDA safety warning on power morcellation, Rachel preferred to undergo a minimally invasive procedure for removal of the fibroids; however, wanted to pursue an innovative solution combatting some of the issues she saw during her time as an OR nurse assisting in many gynecologic surgeries.
"In many cases, I'd watch as GYN tissue, whether during the cutting or the morcellating, dripping or falling off inside of the body." Rachel was also in procedures with another surgeon who utilized the Olympus containment system. "In the procedures using a containment system, one or a few cuts were the most exposure the anatomy had to tolerate, because the large pieces of removed tissue – polyp tissue, uterine tissue, fat, endometrium, and other types of tissue – were placed in the bag, and any cutting or morcellating happened in the contained space."
Weighing her options, Rachel decided to undergo a minimally invasive hysterectomy with the use of the Olympus containment tissue extraction system. "I'm so pleased I had a sneak peek at this advancement before awareness grew over potential dangers of fibroid procedures. I know it was the right choice for my surgery. It amazes me to this day that my huge uterus filled with fibroids was removed from an incision less than one inch long, the traces today buried in my belly button. I was back to work nine days later, and I feel great!"
---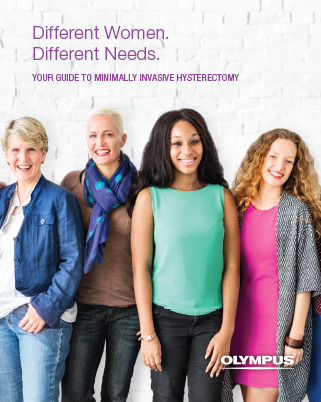 Different Women, Different Needs.
At Olympus, we know it's important that you feel at ease discussing health issues with your physician. Whether you are preparing for an initial visit or seeking more information when considering treatment options, we offer resources that will provide insight and help you in making an informed decision.

Events
Society of Endometriosis and Uterine Disorders (SEUD) 2019

May 16th – 18th,
Montreal, Canada

Society of Laparoendoscopic Surgeons (SLS) 2019

September 4th – 7th,
New Orleans, LA

American College of Obstetricians (ACOG) Armed Forces District Meeting 2019

September 7th – 11th,
San Diego, CA

American Urogynecologic Society (AUGS) 2019

September 24th – 28th,
Nashville, TN

American Society for Reproductive Medicine (ASRM) 2019

October 12th – 16th,
Philadelphia, PA

American Society for Health Care Risk Management (ASHRM) 2019

October 13th – 16th,
Baltimore, MD

American Association of Gynecologic Laparoscopists (AAGL) 2019

November 9th – 13th,
Vancouver, B.C., Canada

Pelvic Anatomy & Gynecologic Surgery Symposium (PAGS) 2019

December 12th – 14th,
Las Vegas, NV

Society of Gynecologic Oncology (SGO) 2020

March 28th – 31st,
Toronto, Canada

The Association of periOperative Registered Nurses (AORN) 2020

March 28th – April 1st,
Anaheim, CA

Society of Gynecologic Surgeons (SGS) 2020

March 29th – April 1st,
Jacksonville, FL

American College of Obstetricians (ACOG) 2020

April 24th – 27th,
Seattle, WA
Additional Reading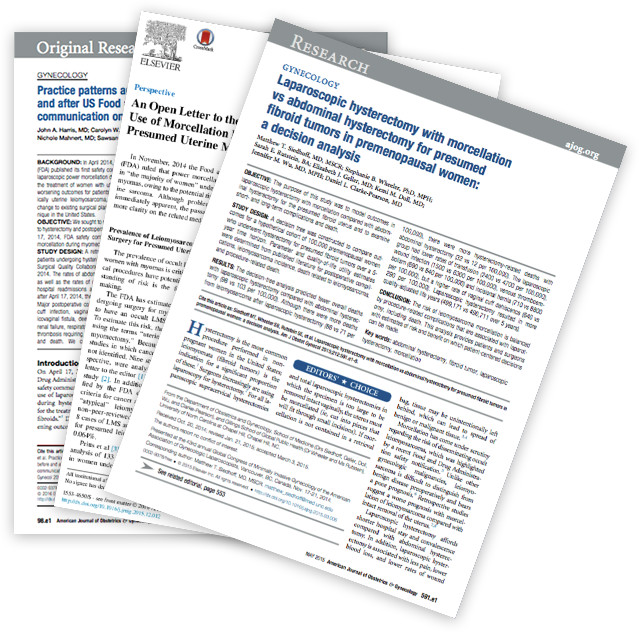 Download Guardenia Brochure