Stiff WIre Basket (FG-402Q)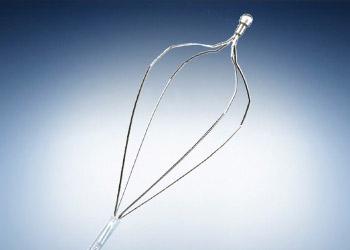 Basket
Foreign Body Retrieval
Stiff WIre Basket (FG-402Q)
The single-use Olympus Stiff Wire Basket features a bullet-shaped tip and stiff wire for easy insertion. The basket is a four-wire design that is compatible with a minimum channel size of 2.8 mm.
Product Support
MODEL FG-402Q
Working Length: 195 mm
Opening Width: 22 mm
Minimum Channel Size: 2.8 mm
Compatible Scopes: GIF, TJF, JF
Package: 1 per box, sterile
Use: Single use
For detailed specifications, view the Endoscopic Devices Product Catalog or please contact customer service for assistance.
Olympus Training & Proper Use
Olympus Continuum, is a comprehensive platform of education and training experiences led by healthcare experts from around the world. Learning opportunities include hands-on courses, online learning, lectures and workshops, peer-to-peer training, accredited continuing education, and on-demand learning.
For more information: Olympus Continuum Video