8.5 MM Hystero-Resectoscope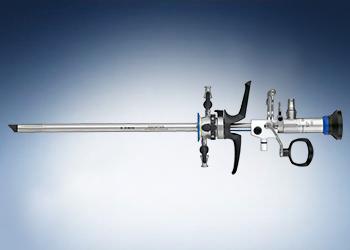 Resectoscope
8.5 MM Hystero-Resectoscope
The 8.5 mm Hystero-Resectoscope features Logical-Locking-System (LLS) components, unsurpassed ergonomics, precise counterbalancing with an impressive 194 mm working length. When paired with the OES Elite 4 mm HD Telescope you get state-of-the-art HD-compatible technology that demonstrates increased depth of sharpness and excellent image resolution. Combined with a high precision working element designed to reduce friction for a smooth cutting experience, the OES Elite HD Telescope and the 8.5 mm Hystero-Resectoscope system provide the latest in innovation for controlled, precise and quick tissue removal.
---
Key Benefits
OES Pro 8.5 mm Hystero-Resectoscope features:
Rotatable continuous flow system
Unique Anti-Blocking-System to ensure clear view even under difficult conditions
Extremely light and well balanced at 248 gr.
Slim 8.5 mm outer sheath with an impressive working length of 194 mm
Ergonomic OES Pro working elements with reduced finger spread
Easy assembly and disassembly due to Olympus Logical-Locking-System (LLS)
Robust ceramic beak with lifetime guarantee against thermal damage
Product Support
OES ELITE HD Telescopes
WA2T412A
OES ELITE Telescope, 4mm, 12° HD, autoclaveble
WA2T430A
OES ELITE Telescope, 4mm, 30° HD, autoclaveble
WA2P400A
Protective Tube
Resection Sheaths
A42011A
Inner sheath, for 8.5 mm outer sheath, ABS, includes standard obturator
A42021A
Outer sheath, 8.5 mm, 2 stopcocks, rotatable
Working Insert
A42091A
Working insert, 8.5 mm, 8 Fr channel
Obturators
A22081A
Standard obturator
A42071A
Visual obturator for A42021A
Olympus® Service & Repair
Olympus offers a broad range of services to healthcare professionals and to our customers, including contact hour and peer-based training courses; information, training tools and videos on infection control and reprocessing; authorized repair services and support on Olympus equipment; and financing solutions to help your facility with acquisition of new capital equipment, accessories, and maintenance plans.
Need Help?
Cleaning, Disinfection & Sterilization
The proper cleaning, disinfection, and sterilization of Olympus equipment is equally as important as their proper use.
Olympus Training & Proper Use
Olympus Continuum, is a comprehensive platform of education and training experiences led by healthcare experts from around the world. Learning opportunities include hands-on courses, online learning, lectures and workshops, peer-to-peer training, accredited continuing education, and on-demand learning.
For more information: Olympus Continuum Video
---